I have a confession to make…I'm not really a "sweets person".  I'm more of a "delicious entree" person.  Meaning, that a dessert has to be REALLY good to tempt me or I'd just rather eat another serving of the main dish!  There are a few desserts that I love and molten chocolate cakes are one of those.
The warm chocolatey goodness that oozes out of them is just divine! I have been making a molten chocolate cake recipe for special occasions for years, but over the last year, I decided to try and re-vamp my not-so healthy-sugar-laden recipe that I've always used in the past into a healthy version.  I've tweaked this recipe what feels like 100 times to get it "just right", so I hope that you will agree that I finally hit a home run with this final healthier version. My kids and friends all give it a thumbs up, so I'm eager for you all to try it!
These Decadent & Healthy Molten Chocolate Cakes make a stunning dessert to serve to company or to keep on hand (unbaked) in the refrigerator or freezer for those times when you need a warm and chocolatey snack, pronto!  Not only are they are so simple to make, but they can be made up to a week in advance, so they are often my go-to choice for entertaining.  Plus, maybe it is just me, but I just love pretty things, so "individual" desserts make me so happy to serve and eat =)! A few other of my favorite individual desserts (pictured below) are my Strawberry Cheesecake Parfaits , my Rich Chocolate Cups and my Irish Cream Creme Brulee
These little gems can be served inverted onto a plate if you like, but I love serving them in these simple ramekins.  They are gluten free, sugar free and low carb and they would make the perfect Valentine or anniversary treat for your sweetheart! You can feel free to halve or double the recipe, if you like, depending on many you want to make.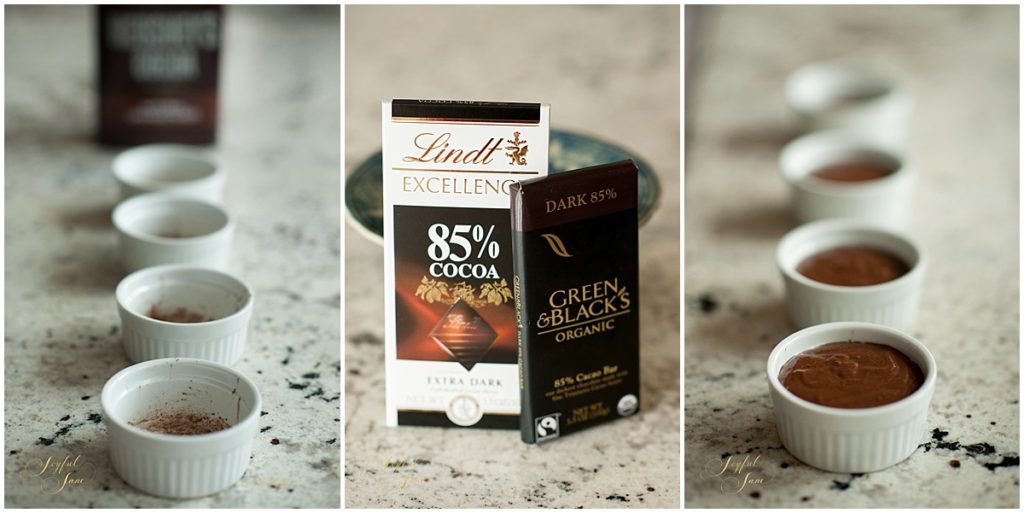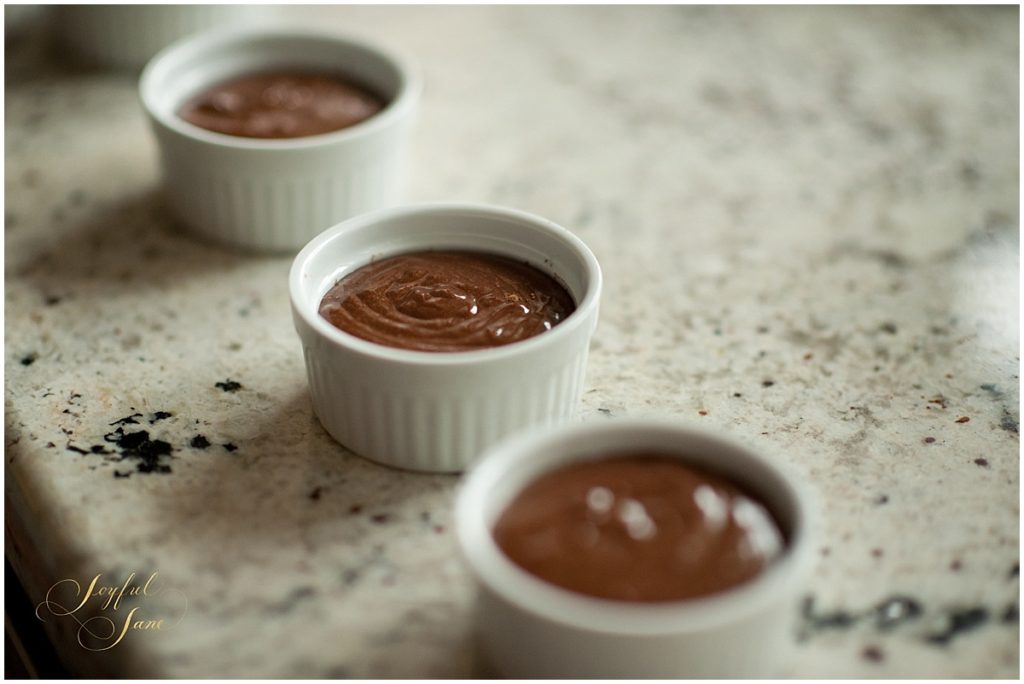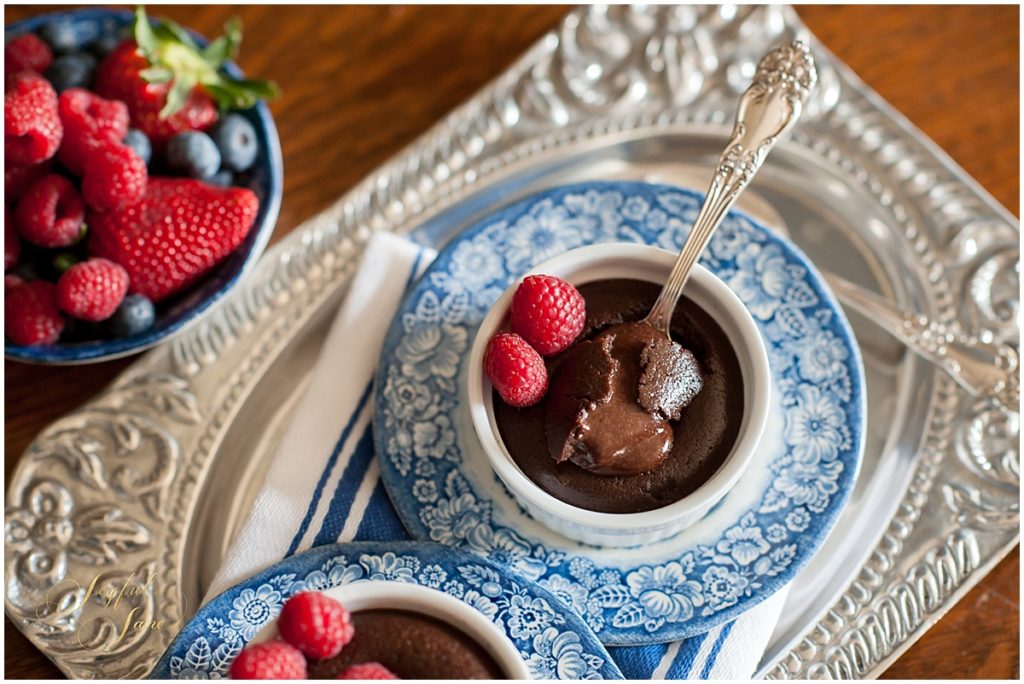 PIN IT!
Decadent Molten Chocolate Cakes
(THM S)

1 3.5 ounce bar 85% chocolate (Such as Green and Black or Lindt) for a dark chocolate cake.  If you prefer more of a milk chocolate cake you can use a Lily's Milk Chocolate Bar
4 tablespoons of butter plus more butter to grease the ramekins
1/3 cup heavy whipping cream
2 eggs plus 2 egg yolks
1/8th teaspoon salt
1/4 cup xylitol *  
1/8 cup erythritol
1/4 teaspoon Glucommanan (optional, but gives a nice smooth texture.  I use this brand, but I've also used this one)
1 teaspoon Grand Mariner (the hint of orange flavor that this imparts is great, but if you don't have any Grand Mariner you can substitute vanilla extract if you like)
1/2 teaspoon vanilla
Cocoa Powder to dust the ramekins
Ice Cream to serve on top
If you'd like a wonderful sauce to drizzle on top, I suggest you try out my friend, Teresia's Five Minute Caramel Sauce on her website www.nanaslittlekitchen.com.  It is delicious!
Melt chocolate and 4 Tablespoons butter in a double boiler.  Once melted add the heavy whipping cream.
In a separate bowl whisk vigorously the eggs, extracts and salt.
Combine sweeteners in a blender and blend for a few seconds to combine and powder them.
Add chocolate mixture to egg mixture. Add the sweeteners then slowly sprinkle in the Glucomannan.  Stir until well combined.
Liberally grease 4  6 oz. ramekins with softened butter.  Sprinkle Cocoa powder on top of the butter and shake around to coat the ramekin as if you were flouring a pan.
Pour cake batter into ramekins and place ramekins on a cookie sheet. Bake at 375 until the edges are done but the center is still molten.  If you are baking right away, probably about 10 minutes of baking time, depending on how your oven cooks.  However, if you are refrigerating them for a later time before baking them then you may need to add about 5 minutes or so to the baking time. They should be set on the edges, but still molten and slightly giggly in the middle when they are done.  I like to serve my cakes in a ramekin, but you can invert the cakes onto a plate if you like (however, I can't vouch for how well they will keep their shape if removed from the ramekin).
Serve with a scoop of vanilla ice cream on top. For the pictures, I used a very small scoop of Breyer's Carb Smart vanilla ice cream, which is approved for occasional use on the Trim Healthy Mama plan (I bought mine at my local Walmart). However, I have also eaten them with my homemade sugar free vanilla ice cream and both ways are delicious! Coffee ice cream is a nice flavor combo with these cakes as well.  Since this is a very deep and dark molten chocolate cake, the ice cream is ESSENTIAL to get the full yum factor with the cake!  The cakes by themselves are not super sweet, so the ice cream adds the nice sweet flavor needed to round out the dark chocolate.  If you don't have any ice cream, sweetened whipped cream will do in a pinch, but it is not quite as good.
If you'd like a wonderful sauce to drizzle on top, I suggest you try out my friend Teresia's Five Minute Caramel Sauce on her website www.nanaslittlekitchen.com
Yield: 4 servings
*NOTE-Xylitol can be harmful to dogs, so be sure to keep your desserts away from them.