It has been said that we feast with our eyes before we even taste the first bite.  The beauty of this healthy dessert is that not only is it lovely to look upon, but it is lovely to eat!  The melding of the flavors of cheesecake, chocolate, cream and strawberries is just perfect and satisfying!  These parfaits are ideal desserts to serve to guests as all of the components can be made ahead of time (any recipe that I can make ahead gets bonus points from me!) and I'm pretty sure your guests would never guess that these are sugar free!  I recently served these at two different dinner parties and they were a hit!
I have my friend Kristi to thank for this idea.  She made a similar dessert for her daughter's birthday party.  The parfait that I have pictured in this post is really big enough to share between two people or you can make smaller portions by using smaller cups.  I've linked to two different parfait glasses that I found on Amazon that I think would work great for this dessert.  One is a set of four footed glass bowls and the other is a set of pretty and unique plastic dessert cups.  Either would be great to use for this recipe, but feel free to just use a bowl or regular cup if making things pretty isn't your thing. =)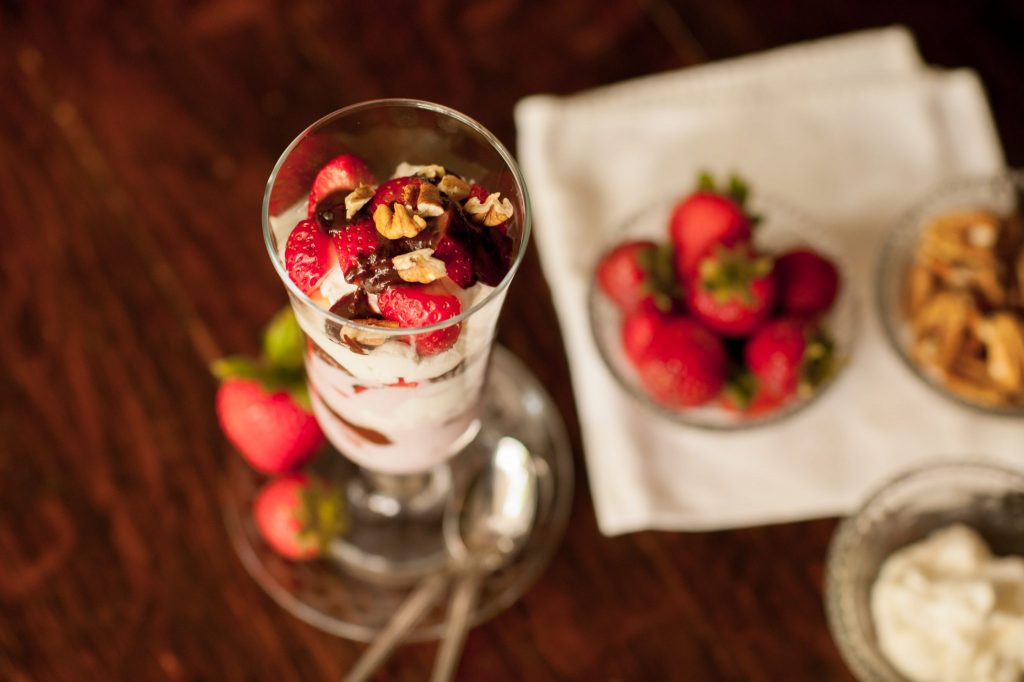 I served these more petite single layer versions to friends when I made them recently.  This picture below is just one I snapped that night with my phone.
PIN IT!
Strawberry Cheesecake Parfaits
(THM S)

Cheesecake Mixture-
1 block of cream cheese, softened 
1 1/2 cups chopped fresh strawberries (or use 1 cup of thawed and drained frozen strawberries)
3 Tablespoons Gentle Sweet
1/16th teaspoon stevia (I use the THM Brand)
Beat above ingredients with an electric mixer until smooth and place into the refrigerator to chill until you are ready to assemble the parfaits.
Chocolate Mixture-
1/2 cup of Lily's sugar free dark chocolate chips
1/4th cup plus 2 Tablespoons heavy whipping cream 
2 Tablespoons Gentle Sweet (optional, but will make the chocolate not quite as dark tasting)
Heat all chocolate mixture ingredients in a small double boiler until chocolate is melted, stirring frequently.  (If you don't have a double boiler then you can use two small sauce pans on top of one another to make a double boiler. Just make sure you have water in the bottom pan so the steam will melt the chocolate in the pan on top).
Whipping Cream Mixture-
1 cup whipping cream 
2 Tablespoons Gentle Sweet
Splash of vanilla 
Beat whipping cream mixture ingredients together in a small bowl with a mixer until hard peaks form.
Toppings
Chopped pecans (toasted if you like, but I used un-toasted)
More fresh chopped strawberries
Layer parfaits beginning with the cheesecake mixture, then chopped strawberries, then chocolate mixture then whipped cream.  You can top it with more strawberries, chopped pecans and chocolate or make a larger serving by repeating the layers (as seen in the pictures).  This is a refreshing and delicious treat, but it is so pretty as well!
Yields approximately 6 small parfaits or 3 double layer parfaits.