This post may contain affiliate links.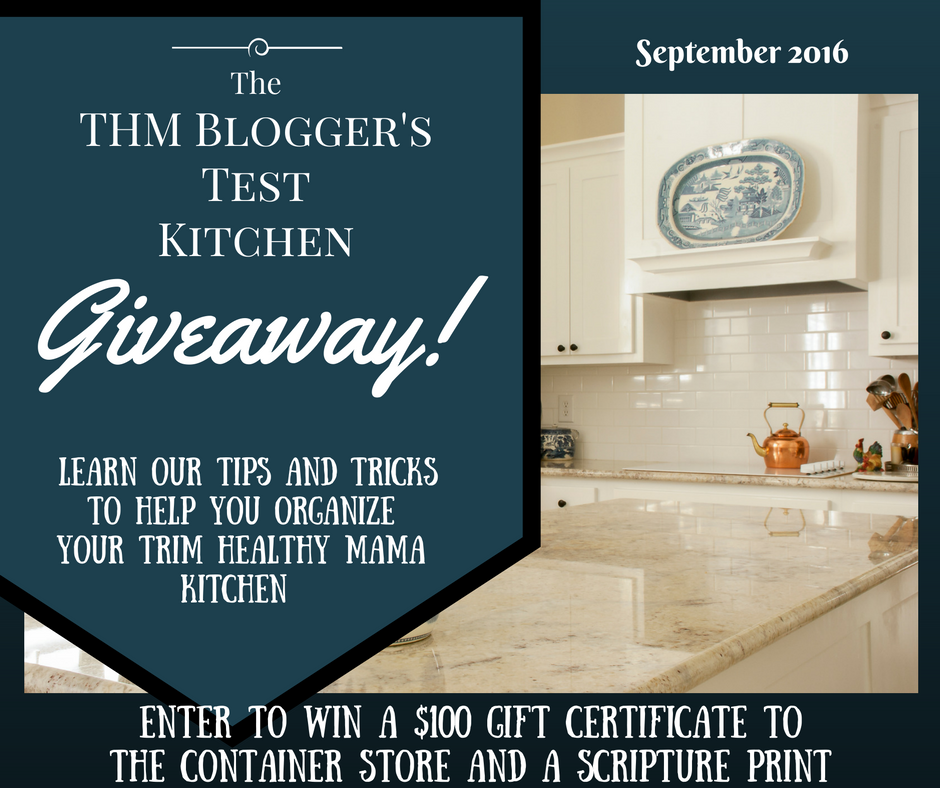 Every month the the Trim Healthy Mama Blogger's Test Kitchen group on Facebook brings you amazing recipes and giveaways and this month is no exception!  This month we are giving away a $100 gift certificate to The Container Store so that one lucky winner can go on a shopping spree and get some great organizational tools to help make life in their THM kitchen easier and more productive! If you aren't familiar with The Container Store and all the amazing organizational solutions they have to offer in the way of bins, containers and such then be sure and check them out HERE.
Also, we are sharing our best THM kitchen tips and tricks below in posts, pictures and such to help you on your THM journey!
Lastly, we are giving away a Scripture Print by Joyful Jane (see picture below) to remind you that with the Lord's help you can have JOY and STRENGTH in the journey to better health! If you want to be sure to get a copy of Joyful Jane's Exclusive Scripture Print pictured below then just sign up to receive Joyful Jane's updates HERE and she will email you one that you can print out for your very own!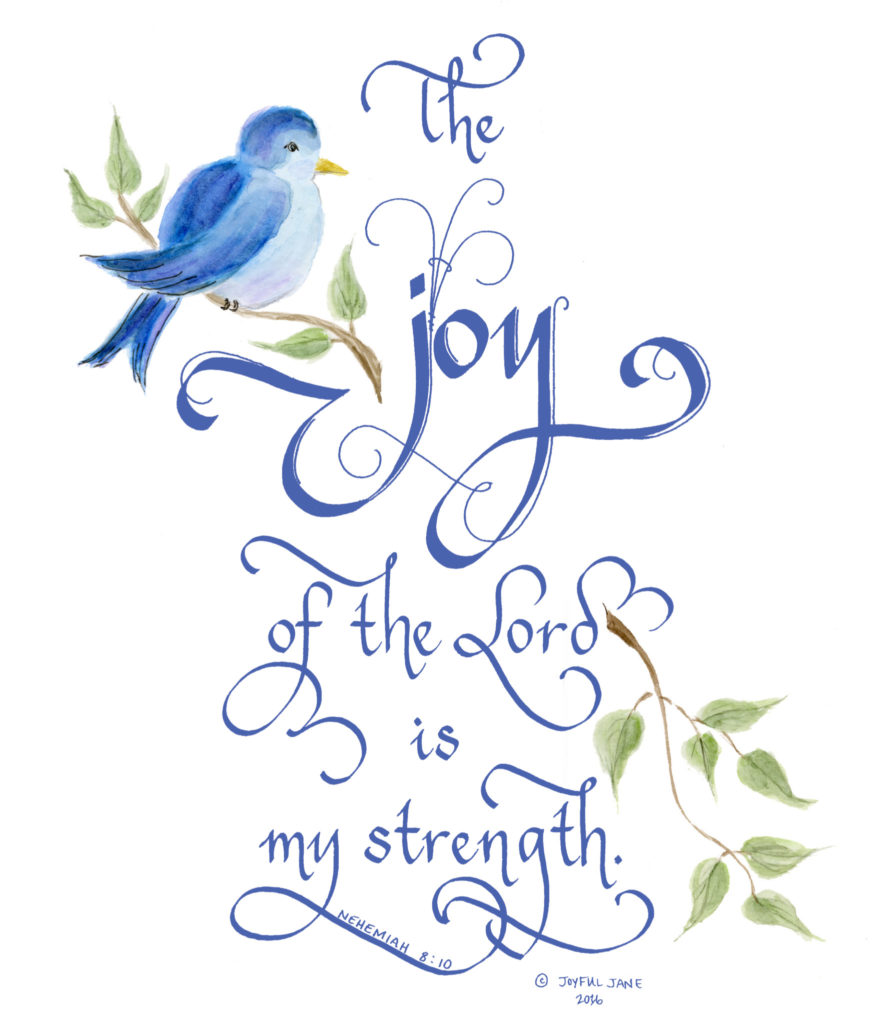 In this post you will find pictures, tips and links from each blogger in this giveaway.  Be sure and visit each of their web sites for great info!
Our family has been eating the THM way for about 3 years.  You can read all about my THM story and my husband's great weight loss and transformation here .  After about a year into our THM journey, I realized that I was spending unnecessary time in my kitchen because I hadn't taken the time to think about the logistics of how I could make my THM kitchen more functional.  I decided to re-vamp the way I stored things in my kitchen to make the THM lifestyle easier and less effort so that I could spend more time loving on my family and less time in the kitchen.  I wrote a whole post with tons of pictures and ideas from my THM kitchen and pantry organization HERE:
If I had to pick just one tip or one area of my kitchen that has saved me the most time, it would have to be my smoothie station.  When making smoothies and shakes I was finding myself running all over the place in my kitchen and pantry to retrieve the needed items for making my blended drinks.  I really enjoy making smoothies for my family, so that was a lot of time wasted.  I decided to consolidate all of the ingredients that I needed to make most of our smoothies into one area in my kitchen near where I keep my blender.  Here is one of my favorite shakes I make often if you'd like to check out the recipe.  Let me tell you, I enjoy making smoothies even more now since it is so quick and easy!!!
Here are pictures from my smoothie station.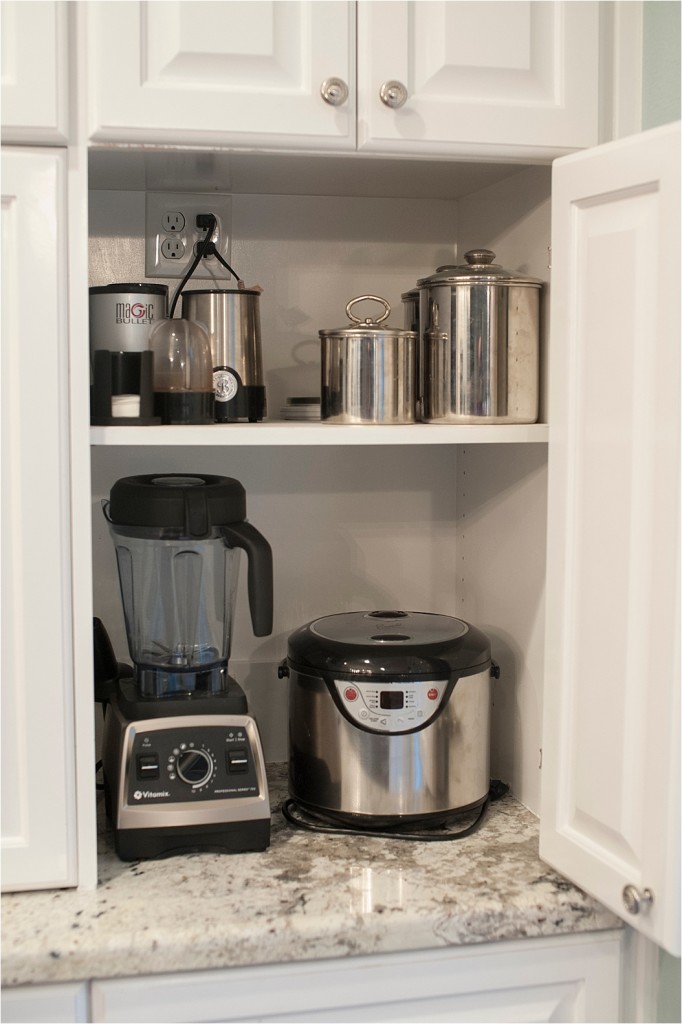 This is my spot where I keep my blender ready to go.  Below it, I have two drawers that I arranged my smoothie supplies.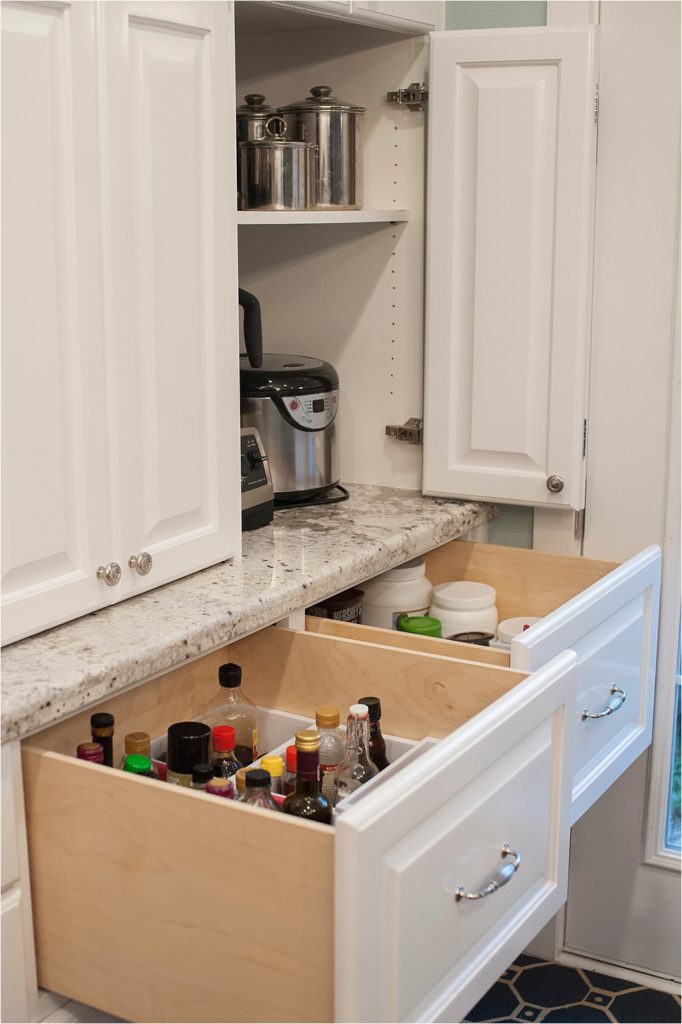 Here is a peek inside one of my smoothie supply drawers.  Here I store, Whey Protein Powder, cocoa powder, THM sweeteners, Gluccomanan, coffee to make the Fat Stripping Frappa or iced coffee, straws, Maca powder, and Matcha powder.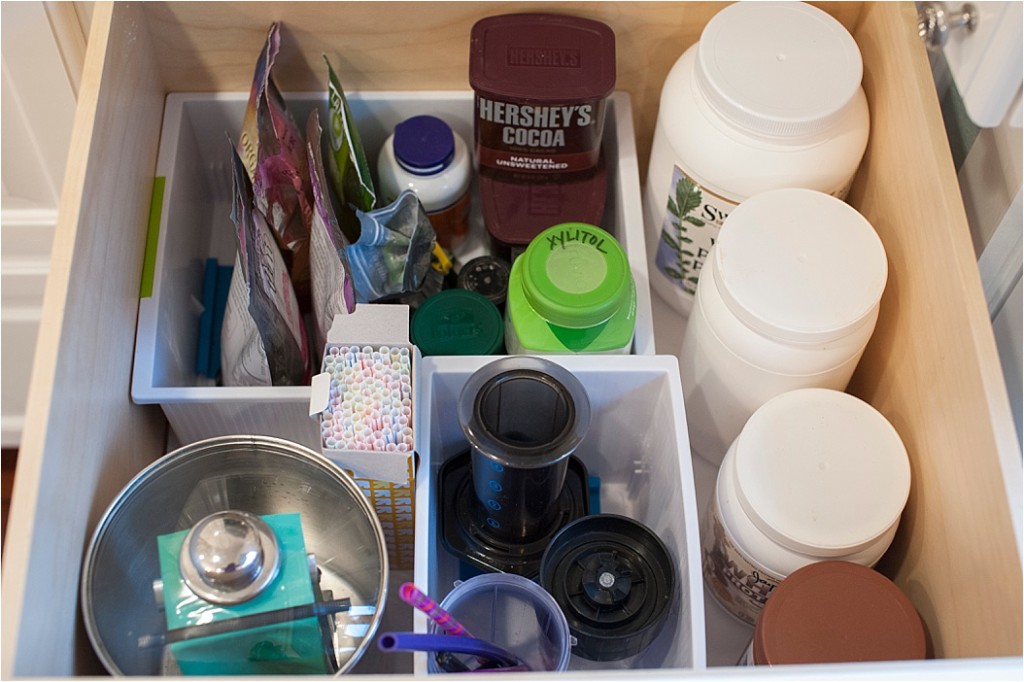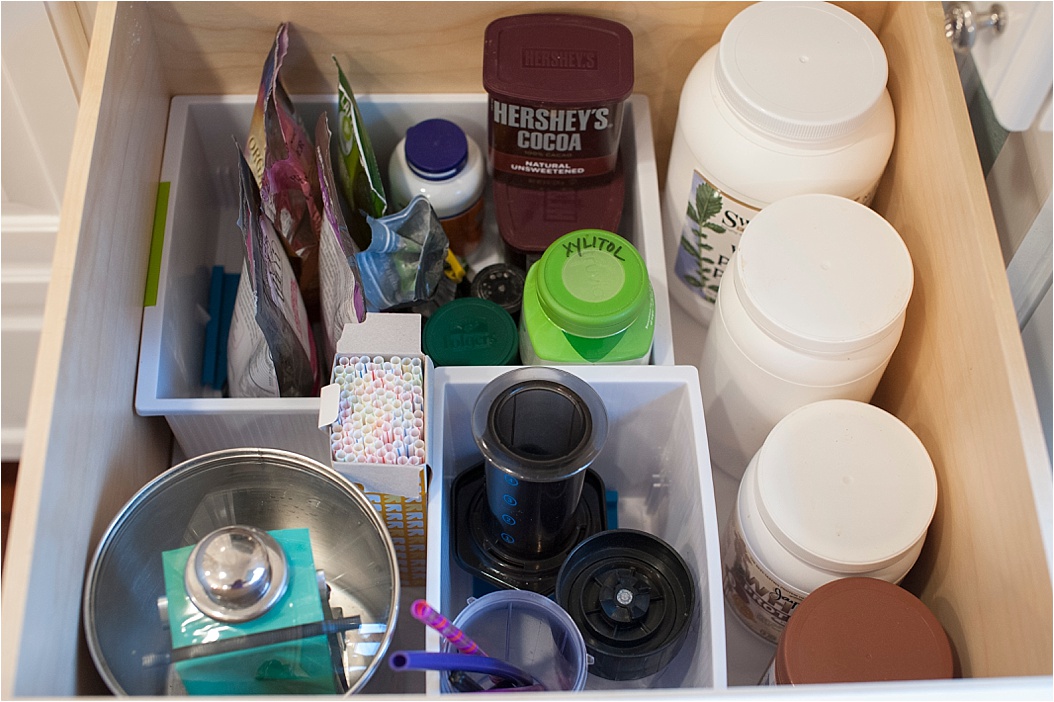 In the drawer beside it I keep all of my extracts and flavorings as well as MCT oil and Bragg's Raw Apple Cider Vinegar for making "Good Girl Moonshine".  I store other handy non-smoothie THM ingredients in that drawer as well.  I like to group things in bins or containers inside my drawers and cabinets to keep things that are similar together and it also makes for faster cleaning when it is time to wipe and clean out the drawers.  The bins can easily be lifted out so the drawers can be wiped and if needed the bins themselves can be rinsed in the sink in the even of a spill.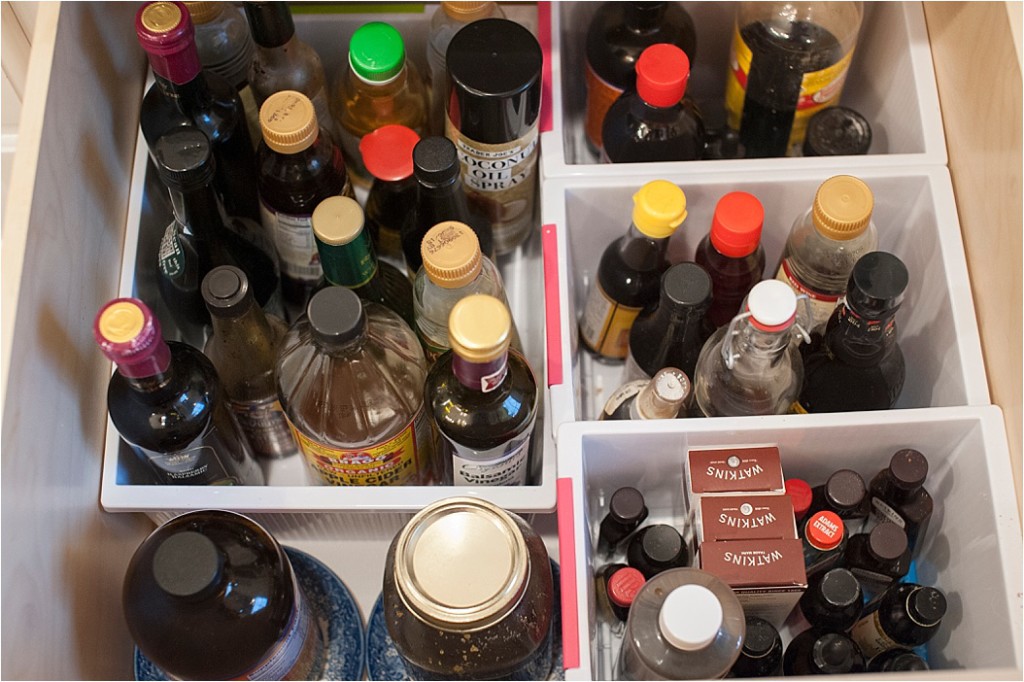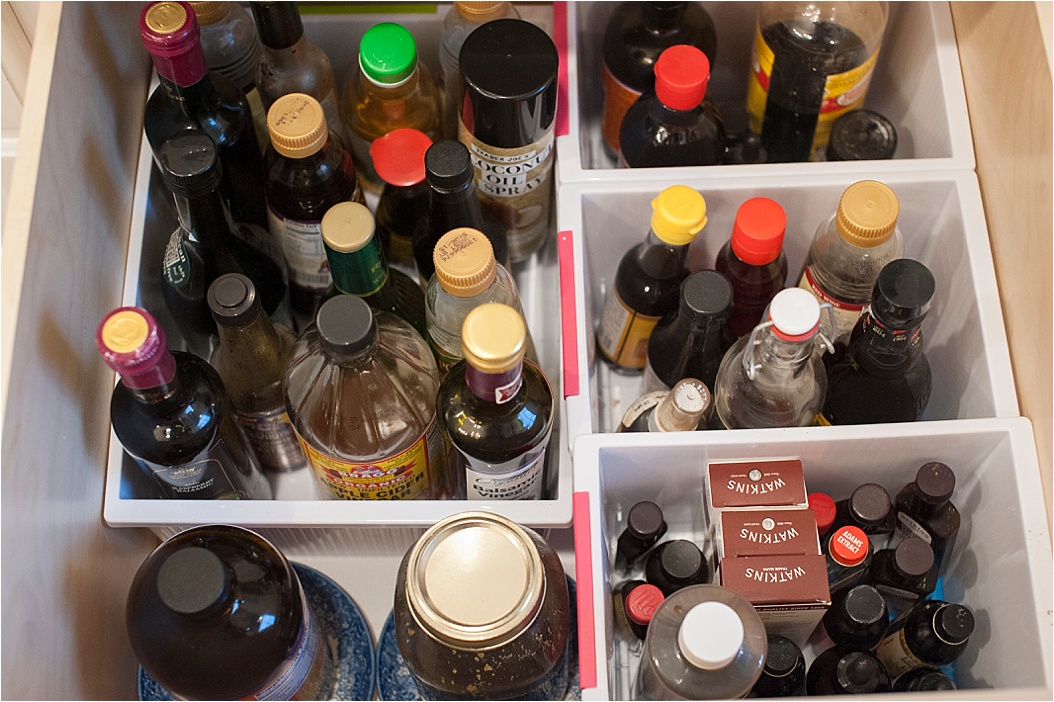 Beside that drawer I have a drawer with measuring cups and spoons and below that is a drawer where I keep my smoothie cups and lids.  I bought this white plastic drawer organizer below from The Container Store.  I also have a great adjustible bamboo drawer organizer in another area of my kitchen, but there are many others from which to choose as well.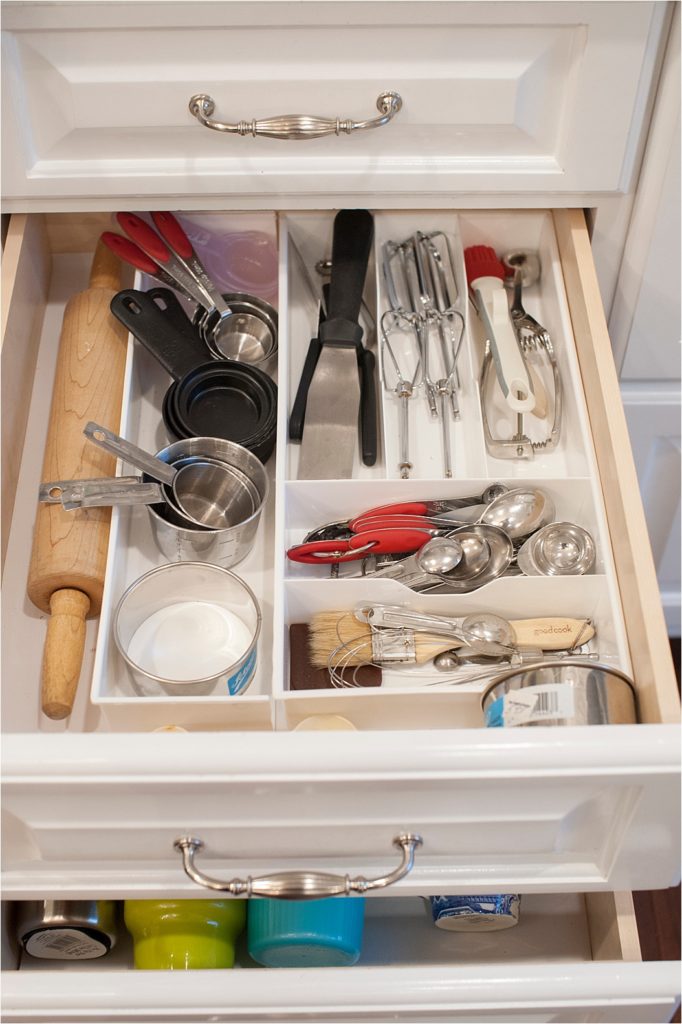 The only other area that I have to gather ingredients from to finish my smoothies, is to my refrigerator/freezer for the cold ingredients.  If I needed to, I could even consolidate the smoothie supplies into fewer drawers, but this is the space that I have and it is all handy and together so it works great for us.  If you don't have any available cabinets or drawers for which to put these types of items, then I suggest using either baskets or inexpensive plastic shoe boxes (I use the Sterilight brand mostly) or plastic bins to group the items you would use together and store them in your pantry or a near by closet so that you can grab the whole bunch at once and save yourself time.

There is one other tip that I feel has helped me immensely in the kitchen and that is having a meal plan each week.  My husband and I made this custom meal planning sheet to include snacks, exercise and meal (fuel) types. If you would like to have your own copy of my meal planing sheet you can find it in the FREEBIES section here.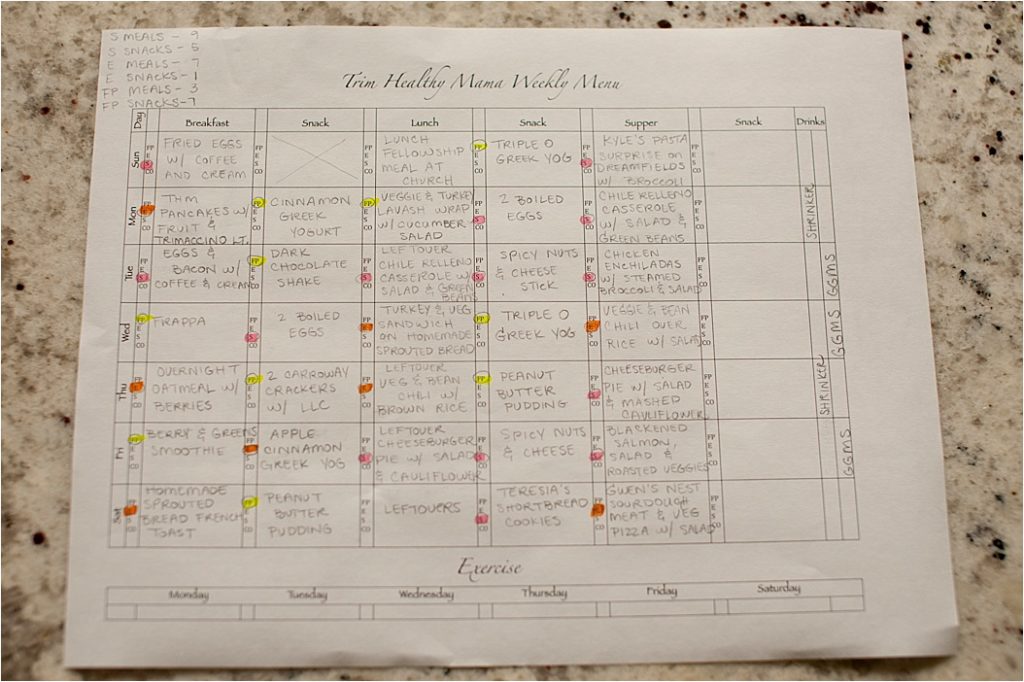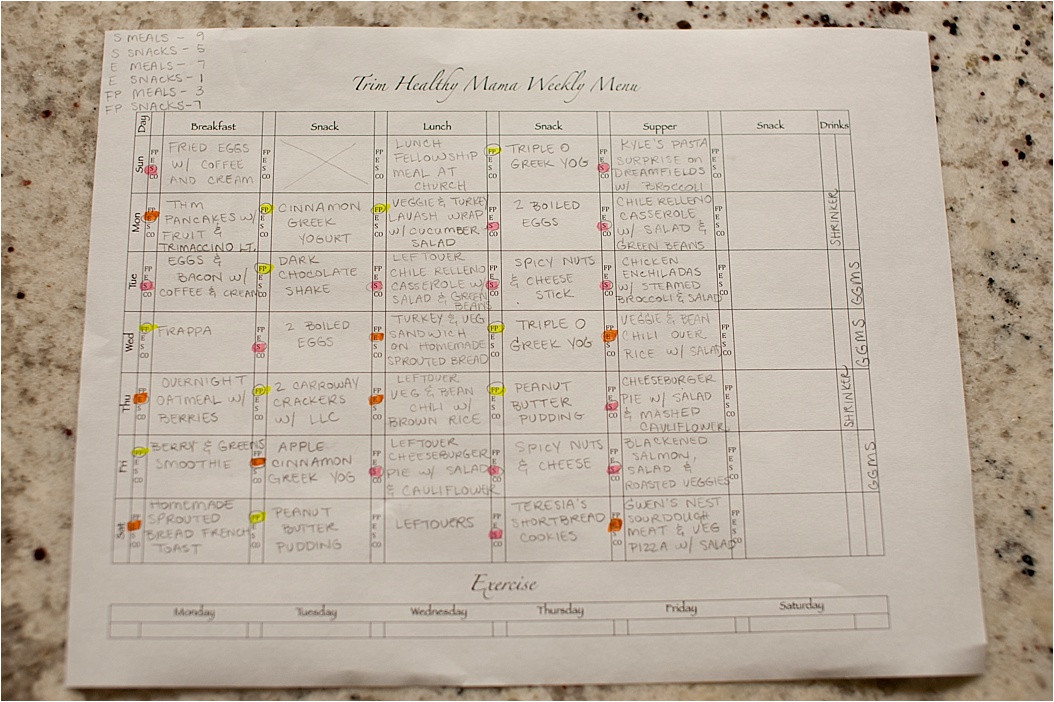 If you aren't familiar with The Container Store then you should definitely check it out!  They have tons of fantastic tools and containers to organize your life!  I also have these all purpose pouring storage containers  in which I keep my brown rice in my pantry.  I have a soft spot for The Container Store because my Aunt's brother is actually the founder of The Container Store, so I try to buy things there when I am able to support family.
Be sure and click on the links below to read all the tips from my blogging friends at the
group on Facebook–
If you haven't already joined our
we bring you tons of tried and true recipes every month as well as great give aways like this one, so check it out HERE–
Sarah Criddle shares her great organizational labels in this post: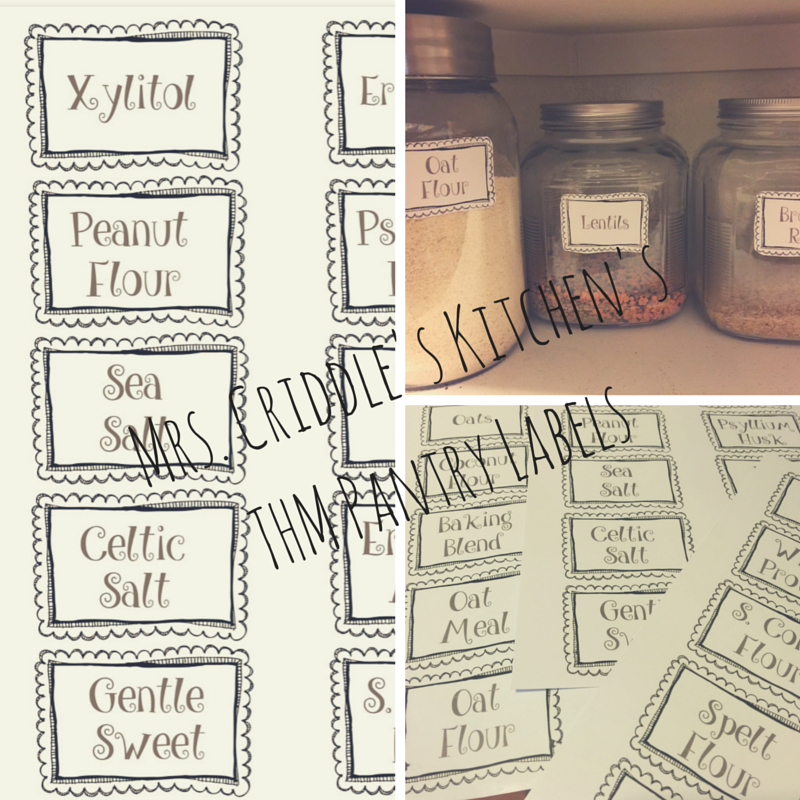 Robin Brookshire shares her tip below and you can check out her blog at:
Once I got to my goal weight I did really well for over a year, but then I got a little too confident in my body's ability to handle some of my "forbidden food". I started snacking on some processed gluten-free foods (cookies) and tortilla chips. Once I started having some "cheats" it became easier and easier to have more. Over the course of the next year, instead of maintaining, I began putting on a little extra weight and eventually put on 10 extra pounds over that year. Now that may not seem like a lot, but what really bothered me was that I didn't feel as good and my energy levels were not what they had been. It's very evident to me that sugar is not my friend. So, now I'm back to sticking "on plan" and I already have begun to loose those extra pounds and am feeling better. What's making the difference? My thinking. It comes down to wanting to feel better and remembering that it's more important than having a sugary treat.
So my tip is that once you are at your goal weight and you're feeling healthy, don't let that fool you into thinking that you can go back to how you used to eat. Your thinking about food really does have to change. Be diligent and truly let it become a lifestyle.
I'm now entering year 4 of being on plan with THM with a new commitment to a healthier me.
Teresia Hulsey has a whole post on her tips for making a small THM kitchen functional at her blog here: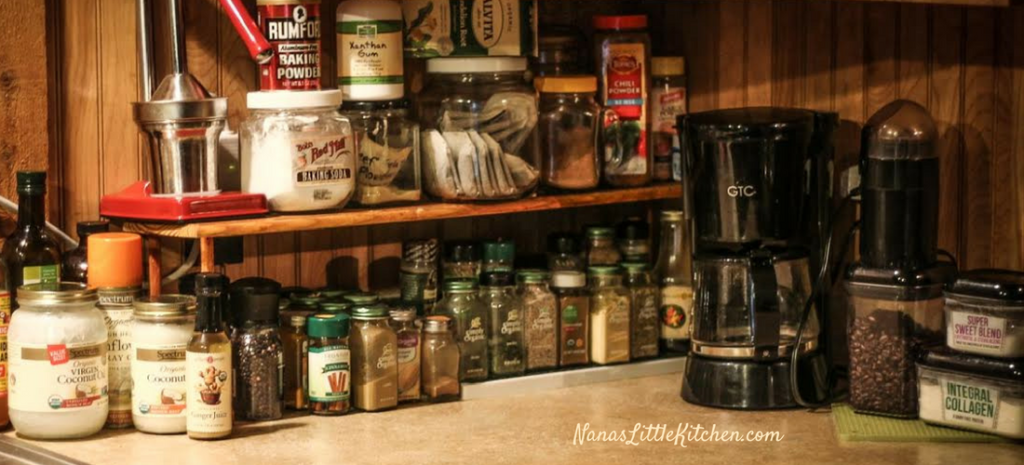 Dawn Yoder shares her tip below and you can check out her blog at:
I use this little Terra cotta pot to store measuring spoons. After I use them, I rinse (or quickly wash if needed) and put them in the pot. The Terra cotta absorbs water and my measuring spoons are always handy…most of the time. I can't seem to get my kids to do the same (but at least they put them in the dishwasher, right?)
One of these days I'll paint it to make it pretty
Dawn says this tip isn't original to her, but that she found it on the Official Trim Healthy Mama Facebook Group.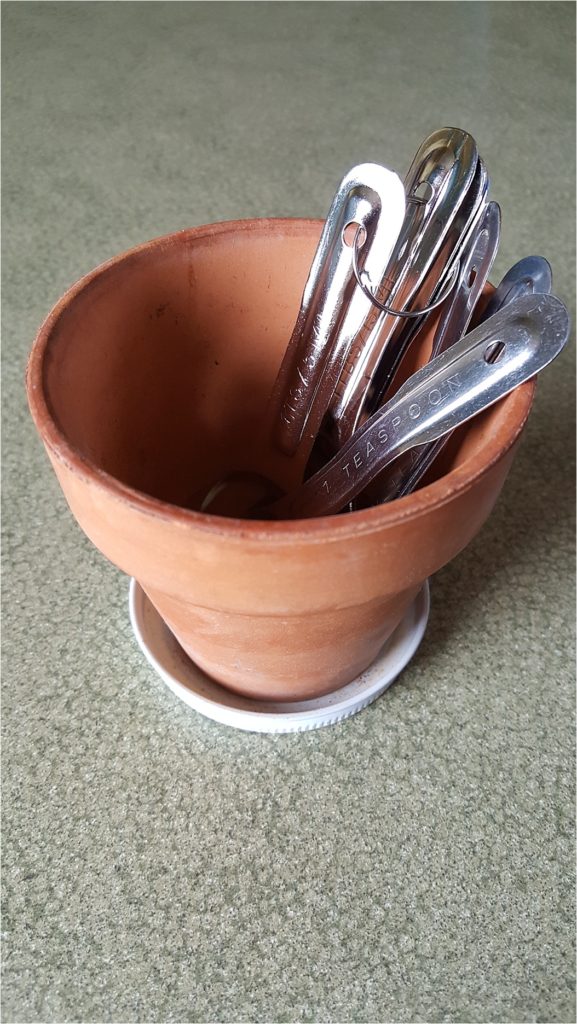 Tina Roberts shares great THM recipes for those with allergies, so be sure to check out her blog at:
Jennifer Mason shares her THM kitchen tips and gives us a peek inside her own THM kitchen at her blog:

Darcie Jackson shares how she preps once and eats all week on her kitchen blog post here: