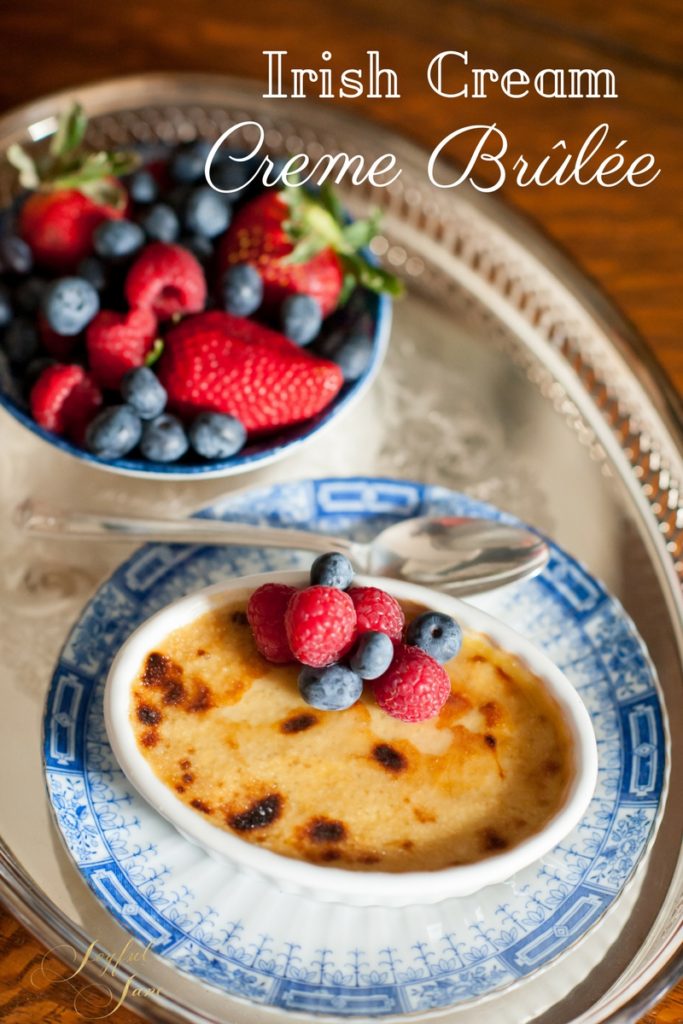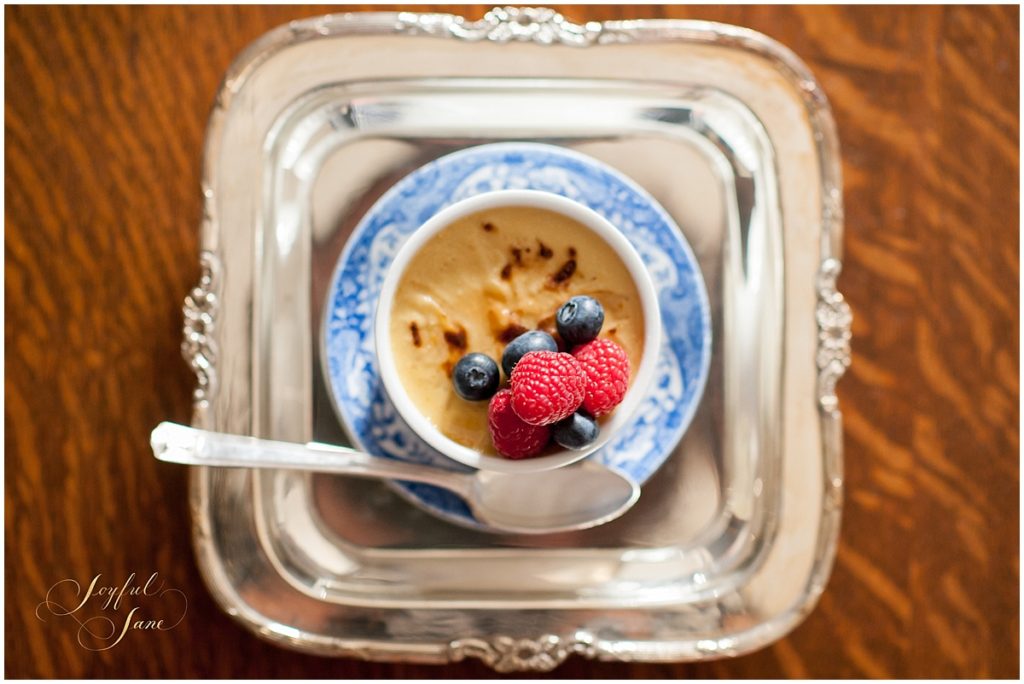 If I were to pick a dessert from a restaurant (other than a chocolate dessert like my Decadent and Healthy Molten Chocolate Cakes ), this would be it!  So, if chocolate isn't your thing, then definitely try this!  It is super creamy inside and has that slight crunch from the caramelized top!  YUM!  The Irish Cream flavor takes this creme brûlée recipe to a new level!  I've eaten a lot of creme brûlée over the years at nice restaurants and this one is the best I've ever had!
Even though creme brûlée is seen at many high-end restaurants, it is surprisingly simple and fast to make and requires only a small handful of ingredients. It can also be made ahead of time, so that always gets bonus points with me!
My sister and her husband are the ones who introduced me to creme brûlée years ago and I've been hooked ever since!  Of course, back then I was eating the sugar-laden version, so I've revamped the recipe to be healthier and sugar free.  I love that these little desserts are served in individual dishes!  They are so pretty to serve to company and because they are portioned out, one is less likley to over-indulge.  Any shape of custard cup or ramekin can be used.  I have used round, oval and rectangular and they all work great!
For other individually portioned healthy (yet delicious!) desserts, check out my Strawberry Cheesecake Parfaits and my Rich Chocolate Cups!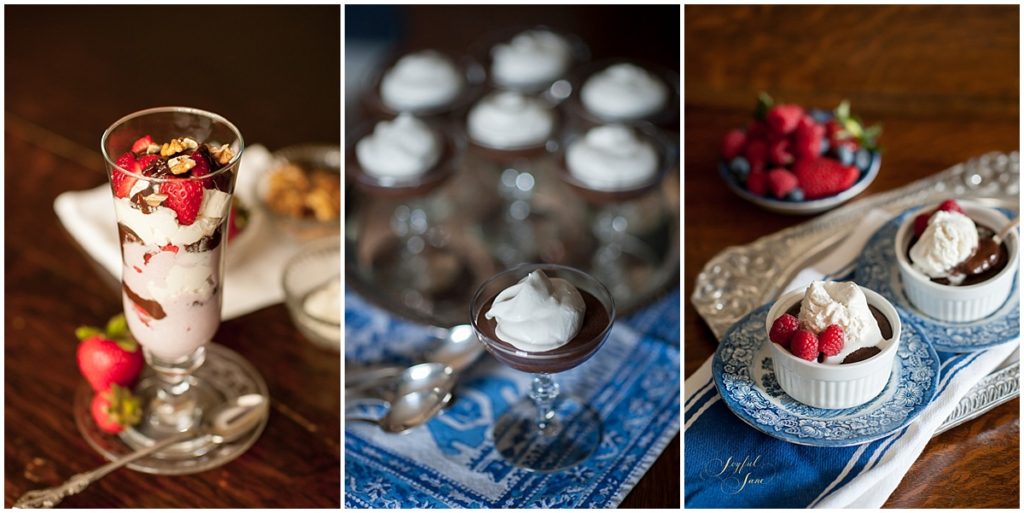 This custard recipe works beautifully on the Trim Healthy Mama plan.  If you wish to make these for your kids, you can substitute the xylitol for pure maple surup if you wish.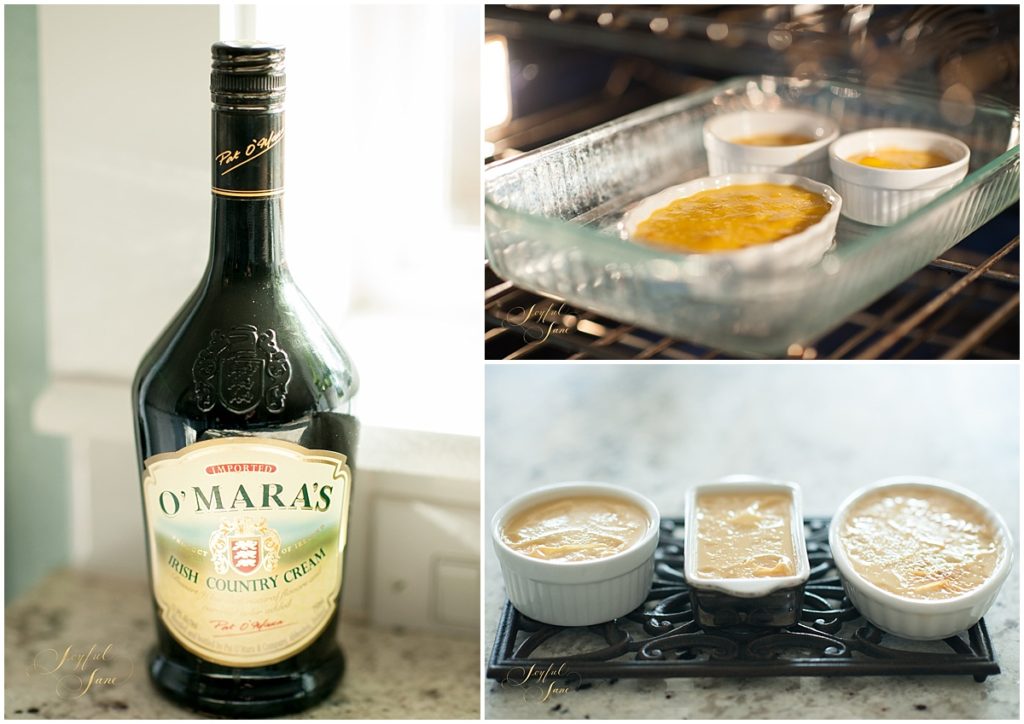 To brûlée literally means to burn, so when the topping is brûléed it is basically lightly burned, which imparts a lovely flavor!  You can use the broiler on your oven to brûlée the top, but it is a bit tricky and you have little control over that.  I much prefer using a kitchen torch and have done so for years.  This is the torch that I have, but there are other less expensive ones as well.
PIN IT!Irish Cream Creme Brûlée
(THM S)
2 cups  heavy whipping cream
1/3 cup plus 1 Tablespoon xylitol * (or pure maple syrup works great if you are making it for your kids)
6 egg yolks
1 teaspoon vanilla extract
3 Tablespoons Irish Cream liqueur, such as Bailey's or an Irish Cream Dessert Wine will work also.  I used the O'Malley's Irish Cream Dessert Wine most recently when testing this recipe, but I've used the Bailey's with great success also.  (These flavorings are used like vanilla extract…It is optional, but it makes the creme brûlée taste so delicious! I highly recommend that you don't leave it out!  You can substitute the Irish Cream with 1 Tablespoon of vanilla extract, if desired, but you will be sacrificing some serious flavor =).
Stir together cream and xylitol in a saucepan over medium heat, and cook until very hot, stirring until the xylitol dissolves. Whisk together egg yolks, vanilla, and Irish Cream (or vanilla extract, if you prefer) until combined. Slowly add 1/3 of the hot cream, whisking it in 2 Tablespoons at a time until incorporated. Once you have incorporated 1/3 of the cream, you can stir in the remaining hot cream without fear of the mixture curdling.

Pour custard into the ramekins, then fill a large baking dish with boiling water to come halfway up the sides of the ramekins. Bake in preheated oven until set, 50-60 minutes (I baked mine for 50 minutes and you still want them a little jiggly in the middle).

Once the custard has set, place ramekins on a wire rack, and allow to cool to room temperature, about 1 hour. Cover, and refrigerate until cold, about 4 hours or overnight. Custards may remain refrigerated up to a week until ready to serve.
For the brûlée topping…
NOTE-Let me first begin by saying that I was unsuccessful at getting an alternative sweetener to sugar to crisp up on the top of this dessert.  I tried repeatedly to get the xylitol to work, but it just never did, so I'm letting you know that I ended up using 1 teaspoon of sugar per top for the ones I brûléed.  The sugar is completely optional. I KNOW that too much sugar is detrimental and definitely not recommended if you are following the Trim Healthy Mama way of eating, however THM does give a few exceptions for some on-plan items that contain a tiny amount of sugar (such as 85% dark chocolate bars, Halo Top Ice Cream, certain sprouted breads and more…).  I am ok with having such a miniscule amount of sugar on occasion, but if you are not then honestly, these custards are so divine by themselves that you can skip the brûlée altogether if you prefer! Or enjoy them with fruit or drizzled with a caramel sauce such as this Five Minute Caramel Sauce from www.nanaslittlekitchen.com.
Unwrap the custards, and sprinkle about 1 teaspoon of sugar onto each. Gently shake the custards so the sugar coats the entire top surface.
Using a small hand torch, melt the sugar by making short passes over top of the custards with the flame not quite touching. Continue melting the sugar until it turns deep brown. Once the sugar has melted and turned to caramel, the cold custard underneath will harden the sugar into a crispy crust. Serve immediately. Alternatively, the sugar-dusted custards may be browned underneath the broiler in the oven, but you may have to stick them in the freezer for a few minutes after broiling to cool the custards back down.  A kitchen torch is the preferred method from this standpoint or you can leave the topping off entirely and just enjoy the delicious and creamy custard by itself or with fruit or drizzled with a caramel sauce such as this Five Minute Caramel Sauce from www.nanaslittlekitchen.com.
Yield: 6 servings
*NOTE-xylitol can be harmful to dogs, so be sure to keep your desserts away from them.