This is a HUGE giveaway…I'm giving away 8 of my favorite things here at Joyful Jane to one blessed winner and my friends at the Blogger Test Kitchen (in which I am a Blogger) are each also giving away their favorite things, so be sure to ENTER and visit the sites and you could come away with some seriously awesome loot!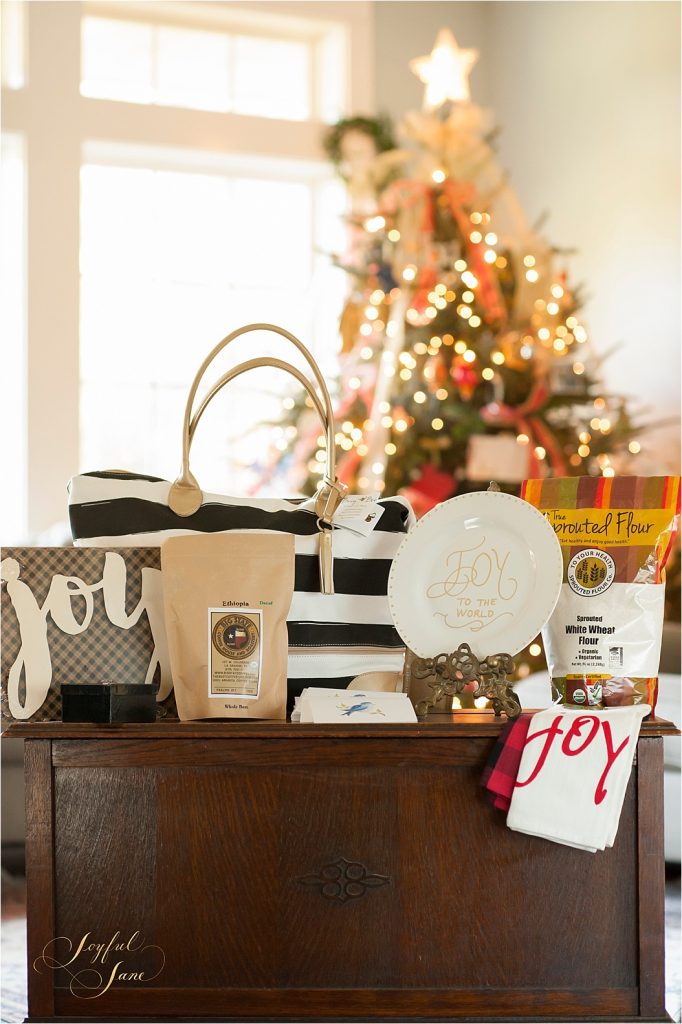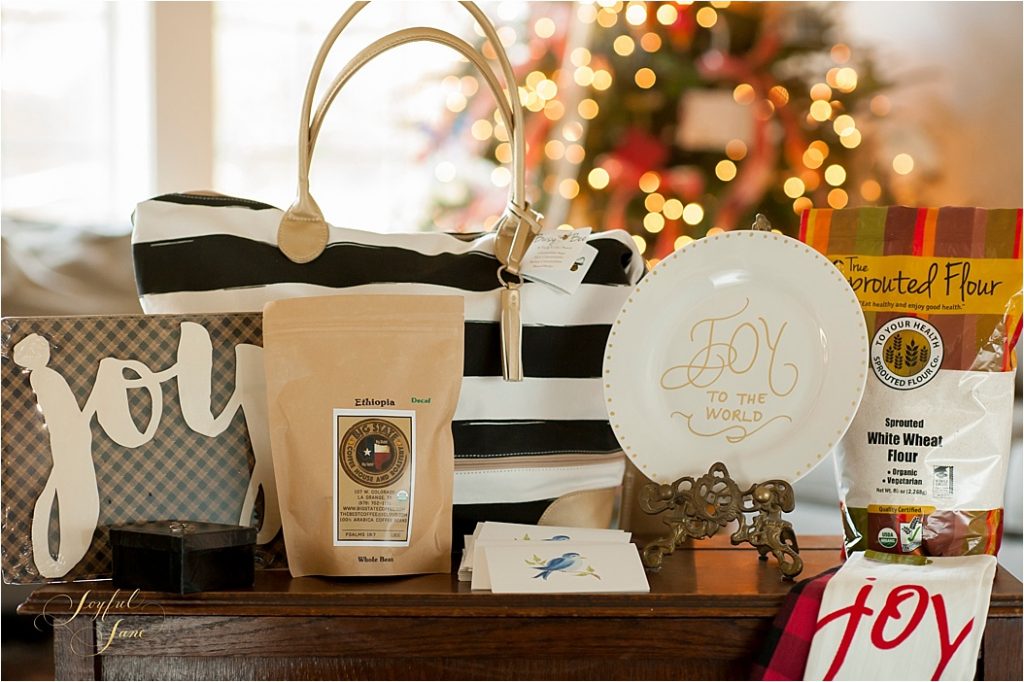 Before I delve into what is in MY giveaway, you must know that 6 OTHER giveaways from my blogging friends that are all happening right now.
To see each gift up close, and to enter to win, visit each site to fill out the entry forms. It's possible you could win more than ONE!
When you visit each blog take a look around. This is a great list of amazing bloggers and I know you'll love each one of them.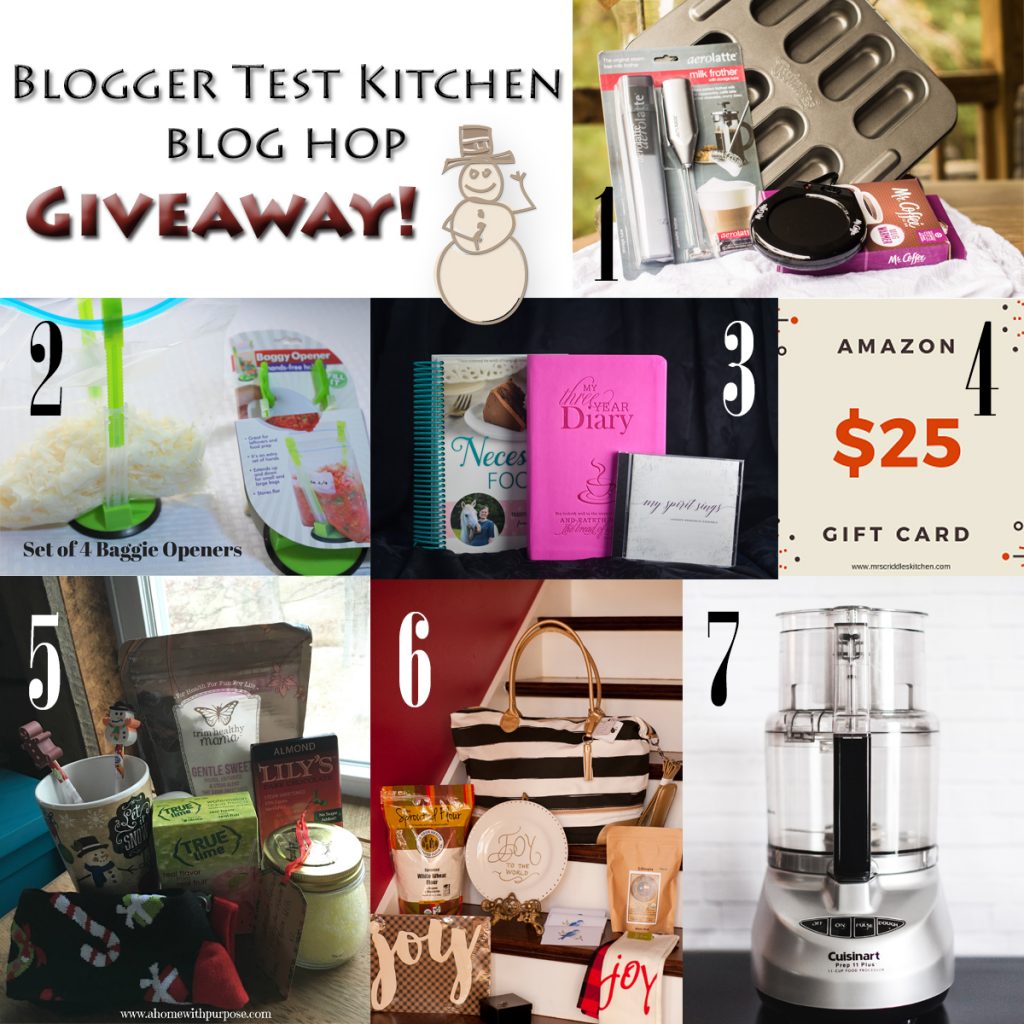 1. Nana's Little Kitchen // 2. Wonderfully Made and Dearly Loved // 3. Briana Thomas // 4. Mrs. Criddle's Kitchen // 5. A Home With Purpose // 6. Joyful Jane // 7. MamaShire
Here's the scoop on what I am giving away to one lucky winner…
1.  Personalized Sterling Silver Monogram Earrings From La La Designs-
Not only is La La (short for LaDonna Gatlin) my sister-in-law, but she is an incredibly gifted and creative jewelry artist!  In the picture above, my daughter is wearing her own pair of the monogram earrings that that we are giving away from La La Designs!  I have my own pair that I wear all the time and I have given many pairs as gifts to friends because I love them so much!  These earrings are hand-stamped with the monogram of your choice.  They are a delicate size and just perfect to wear everyday or to give away to a friend!  La La doesn't normally make these earrings in her regular collections, however, she is offering to make them special order for the visitors of Joyful Jane!  You can order your own pair and see more of her amazing artistry on her website La La Designs and on her Facebook page Jewelry by La La Facebook.
Below is a little bio from LaDonna about her and her business.
LaLa Designs is a one woman operation. I am a Believer, a wife, a daughter, a sister, an aunt, an Aggie (Texas A&M '00), former Assistant Director of the Brazos Valley Jewelry Artist Guild, and a jewelry artist. LaLa Designs was founded in 2005 after a trip to a local store. While browsing the books there, I picked one up that promised to help you craft gifts for friends and family. One project was creating a set of jewelry from sterling silver wire. After skimming the instructions, I decided creating jewelry might be fun. I spent the next few evenings searching the web finding all the information I could on making wire jewelry. I managed to find a great site by a jewelry artist named Connie Fox. It was the impetus I needed to take the plunge. I ordered some copper wire with which to practice and some sterling silver wire with which to make "real" pieces and haven't looked back sense. My skills have evolved over time, as have the materials with which I work. I use a variety of media with which to create my pieces: sterling silver, brass, copper, sterling silver clad brass (double and single), found objects, and everyday items from the hardware store. Whatever the material, I strive to create the best jewelry possible and my workmanship is guaranteed. Each piece is crafted by my own two hands, not a machine. I describe my style as ECLECTIC because that's my personality. I'm inspired by the bohemian look, nature, vintage items, Native American craftsmanship, and a touch of steampunk.
2.   Porcelain Decorative JOY Plate (hand-lettered in my calligraphy and made exclusively for this giveaway by yours truly)-
Check out more of my custom Calligraphy for Wedding Invitations, Stationery, Birth Announcements and Monograms in my Calligraphy Portfolio.
(Plate stand not included.)
3.  Freshly Roasted Organic Coffee from Big State Coffee Roastery-
While on a business trip, my husband, Kyle discovered the tastiest freshly roasted coffees at Big State Coffee Roastery in La Grange, Texas.   Rhonda and John Hill are the founders of the Roastery and Coffee Shop, which they opened in 2012. They began roasting coffee quite by happenstance in 2008, when Rhonda picked up a coffee roasting book from a garage sale one day.   She gave the book to her husband, John and he began to try out coffee roasting after reading the book.  The rest is history, as they say… The business has evolved to include custom roasting, healthy breakfast and lunch selections, their coffees, freshly brewed and in espresso drinks. Head on over to their Facebook page to order some coffee or, if you are ever in the area near La Grange, Texas stop by Big State Coffee Roastery!
4.  Personalized  Monogrammed Weekender Bag from Petunia Bottoms-
Petunia Bottoms is a darling local shop in my town that specializes in monogrammed items and special outfits for children.  This weekender bag is fantastic!  It has zippers that expand the bag to a larger size, plus a shoulder strap and roomy interior. Petunia Bottoms will monogram this great bag for the lucky winner!  You can check out out their store on their Petunia Bottoms Facebook Page.
5.  Organic Sprouted White Whole Wheat Flour from To Your Health Sprouted Flour Company-
This To Your Health Brand of Sprouted White Whole Wheat Flour is one of my favorite products to make amazingly soft and fluffy sprouted bread and rolls! You won't believe how delicious this is and how tall and fluffy this flour makes baked-goods.  Check out my SHORTCUT and EASY method for bread-baking and read more about why I use and love sprouted flour and the health benefits of sprouted flour over traditional non-sprouted flours here on these posts about my THM Easy Sprouted Whole Grain and Honey Bread and Easy Fluffy Sprouted Wheat Rolls.  You can buy the sprouted flour HERE.
6.   One of a kind set of 10 hand-painted Blue Bird Linen Notecards and matching envelopes by Nancy Manning and Joyful Jane-
My talented friend Nancy painted the adorable blue bird that I then took the painting and had it printed on custom-made linen note cards.  Aren't they lovely!?!  If you wish to buy a set of the notecards you will find them in the Joyful Jane on-line store HERE!
7.  Wooden JOY sign-
This cute sign would be great hung on a wall or displayed on a bookshelf.  You can paint it or leave it natural and it would be super cute with a ribbon tied to it from which it could hang.
8.  Set of two festive Kitchen Towels-
I just love these two towels!  They would be a great addition to liven up your kitchen any time of year!
More About the Bloggers-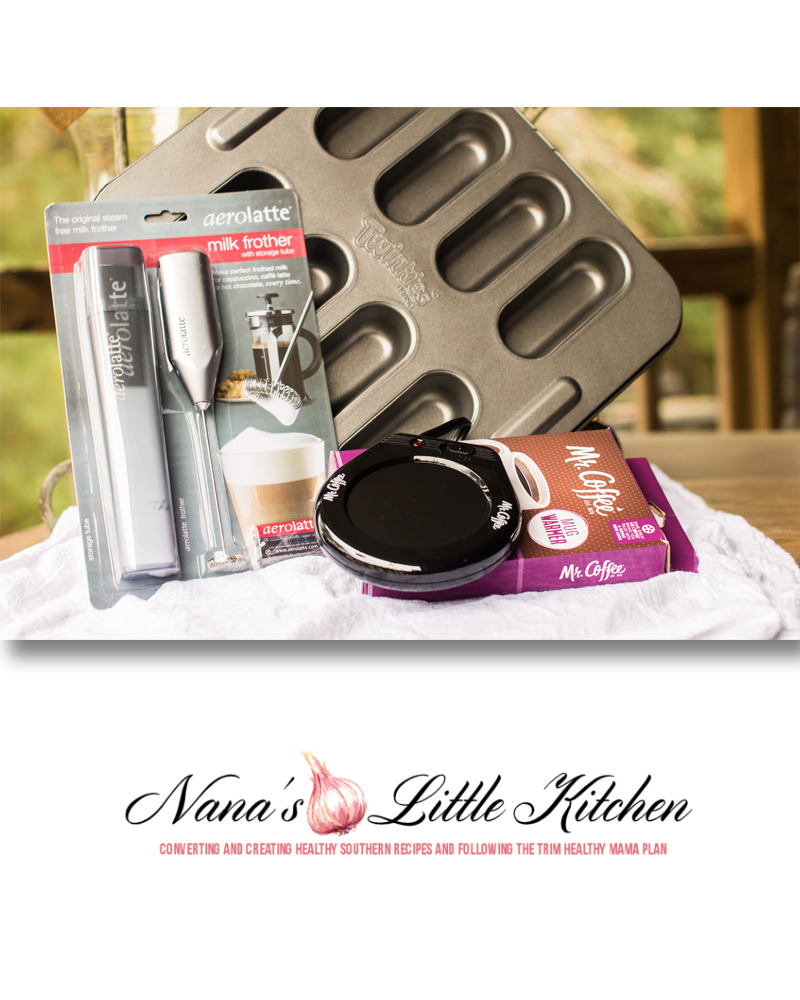 Nana's Little Kitchen is serving up solid Southern dishes to help you on your Trim Healthy Mama journey. Teresia is sharing classic recipes that are satisfying, delicious, and nutritious to help you weave this fantastic diet plan into the fabric of a healthy life. Click here to enter Teresia's giveaway!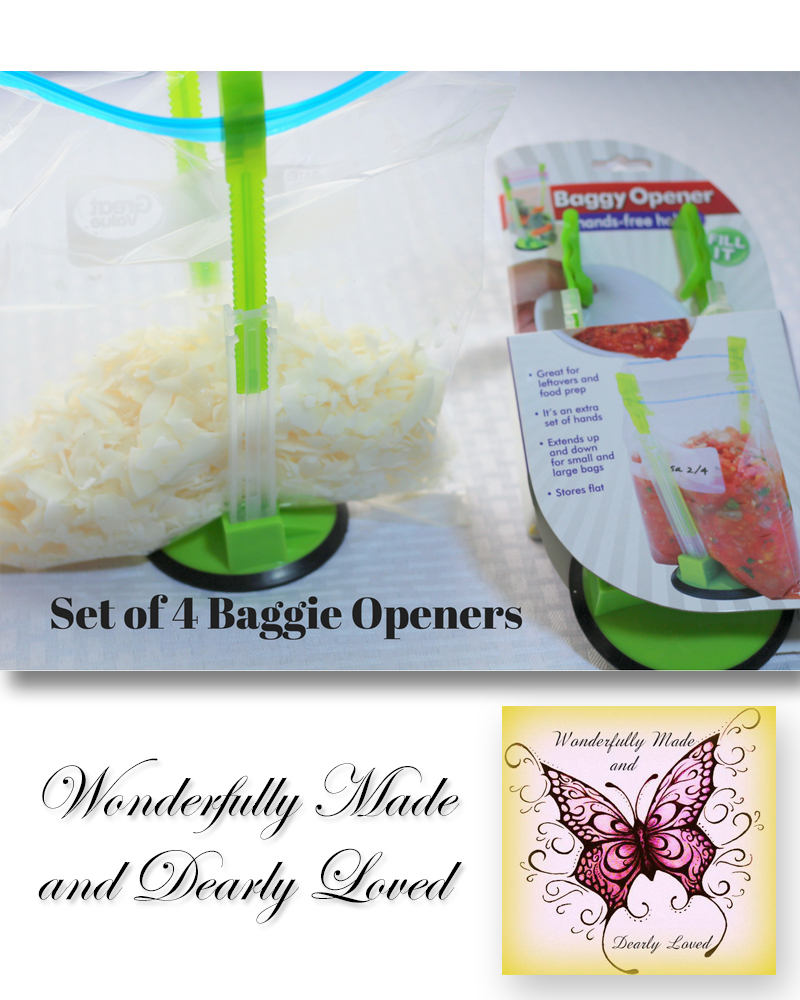 Judy from Wonderfully Made and Dearly Loved says, "I started blogging because I have baked with alternative sweeteners and ingredients most of my life. I wish I had found THM long before I did because my mom would have loved it (she was a type 1 diabetic). I find inspiration in knowing that the recipes and articles that I'm sharing may help someone to stay on plan or find their "sweet spot" with on-plan sweeteners. I've felt so incredibly blessed since I began this journey." Click here to enter Judy's giveaway!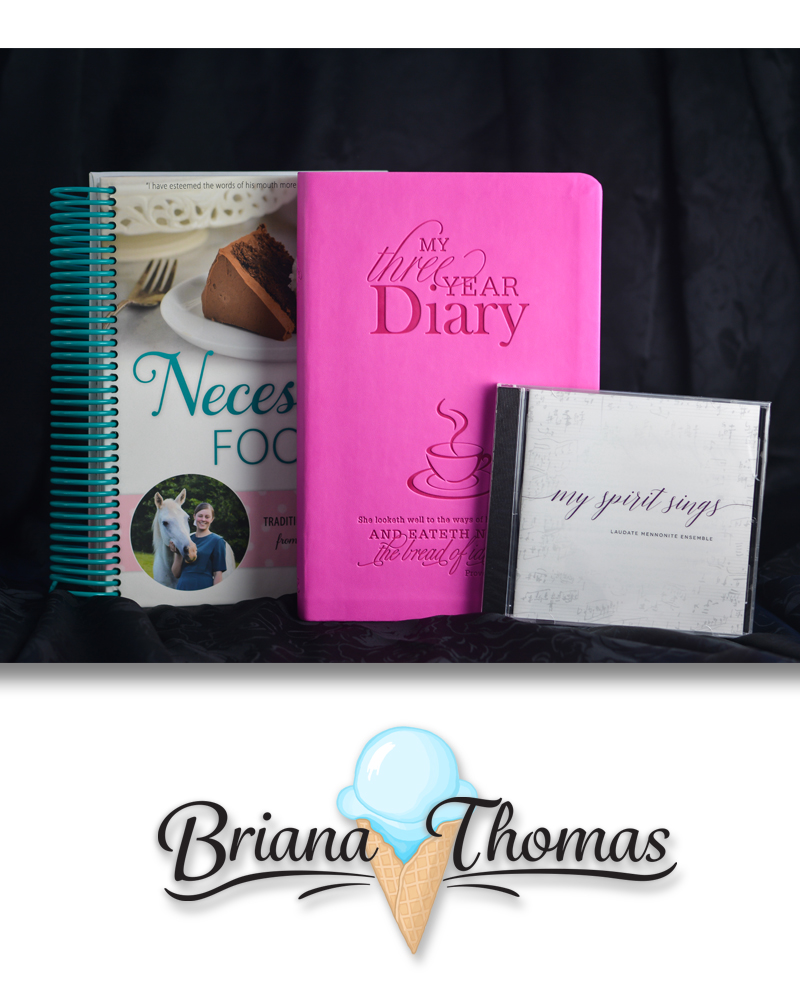 Twenty-one-year-old blogger Briana Thomas has a passion for quick, easy, and healthy versions of her family's favorite recipes…and ice cream! Between creating and blogging recipes, taking pictures, riding horses, singing, and publishing a cookbook, she stays busy and enjoys writing about her exploits and dreaming up new projects. Click here to enter Briana's giveaway!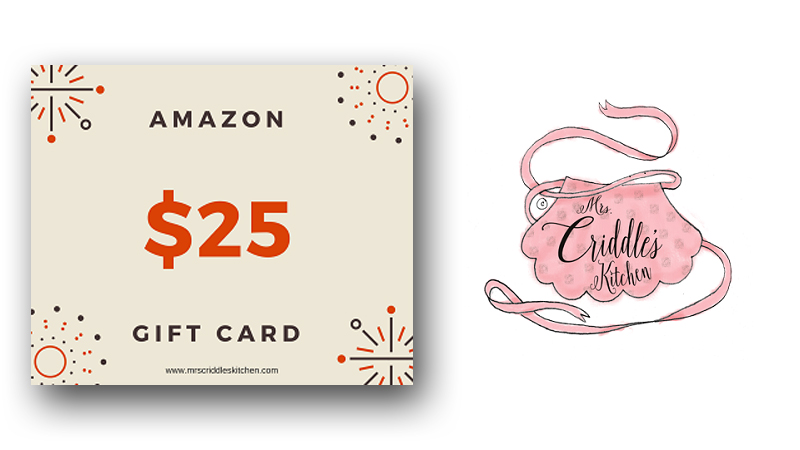 Sarah from Mrs. Criddle's Kitchen is a mama of 7 – married to her cowboy! Cooking for her family is one of her passions, and her blog is where she gets to share her creations. Sarah's recipes are all Trim Healthy Mama friendly! Click here to enter Sarah's giveaway (she's giving away the gift card pictured plus some other goodies)!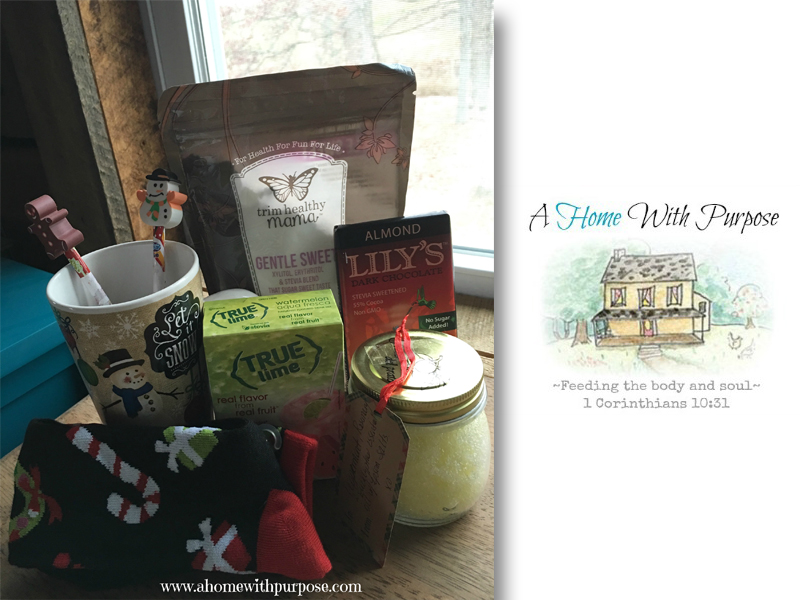 Jennifer at A Home With Purpose started blogging well over a decade ago! She first started as a way to keep track of family life. It grew as she shared her walk with the Lord, crafty ideas, and then recipes! Almost four years ago, Jennifer started the Trim Healthy Mama plan. She's enjoyed sharing many recipes, tips, and giveaways for her THM buddies. She also continues to share her faith and walk with the Lord as it pertains to motherhood, homeschooling, being a wife, and even in her battle with health and her weight. Click here to enter Jennifer's giveaway!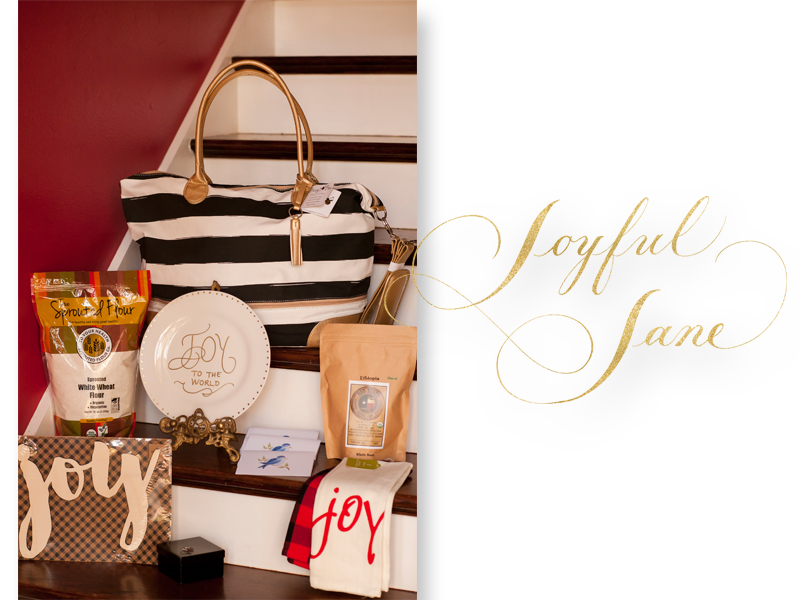 Come meet Kristen at Joyful Jane and find a wide array of encouragement and lovely things! Kristen is a homeschooling mama of 8 children and she focuses on finding JOY along the way of life. She loves to share encouragement in the areas of being a wife and mother, eating and creating healthy food for our families, homeschooling and family life tips, calligraphy scriptures and personalized items, inspirational photography, organizing tips, home décor and lovely things! Hope on over to say "Hi" and enter our huge Christmas giveaway! While you are there, grab some of our FREE resources, including the gift of our hand-painted Calligraphy Scripture Print! Click here to enter Kristen's giveaway!
My Favorite Things HUGE Christmas Giveaway & Blogger Test Kitchen Blog Hop Giveaway!!!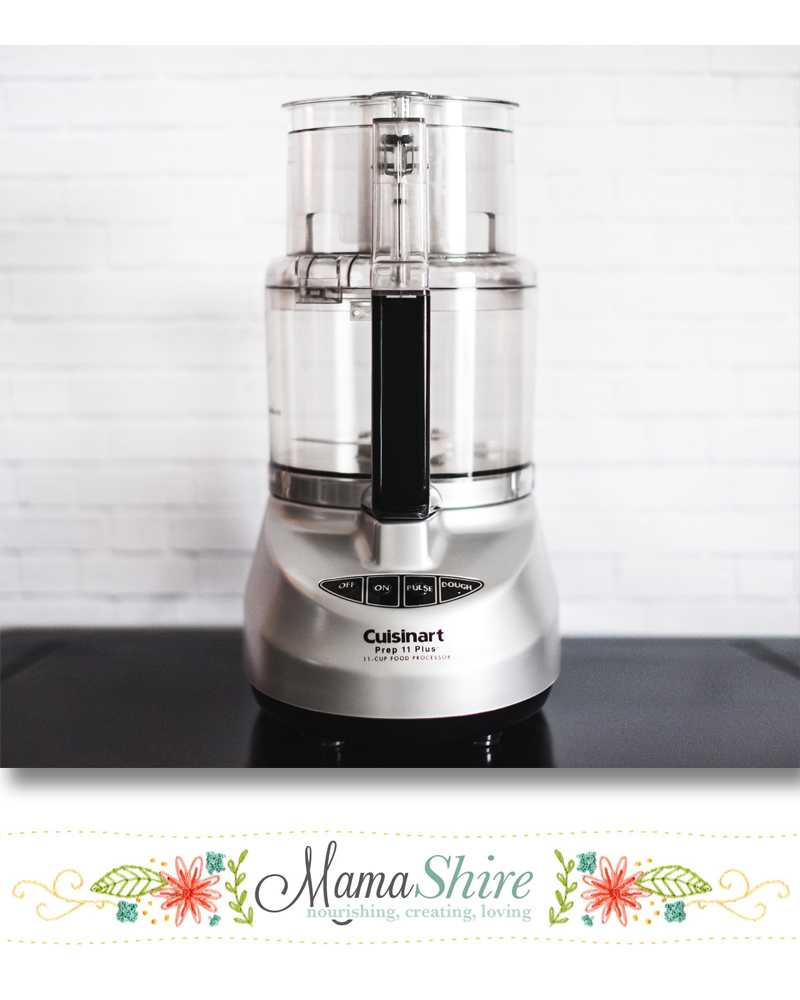 Robin from MamaShire.com provides allergy-friendly recipes that are gluten-free, dairy-free, sugar-free and are compatible with the Trim Healthy Mama lifestyle. You'll also find a sprinkling of embroidery tutorials, as she and her daughters, Emily Rose and Breezy, created Clementine Pattern Co., which features beautiful hand embroidery patterns and kits. Click here to enter Robin's giveaway!
Time to enter the giveaway!  Be Sure to visit the THM Blogger Test Kitchen and Joyful Jane on Facebook for extra chances to win!  Giveaway is open through December 20th.  Winner will be announced for each giveaway on December 21st.  Once the winner is contacted winner must respond within 48 hours or another winner will be chosen.  Giveaway is open to U. S. Residents only.
This post contains affiliate links.