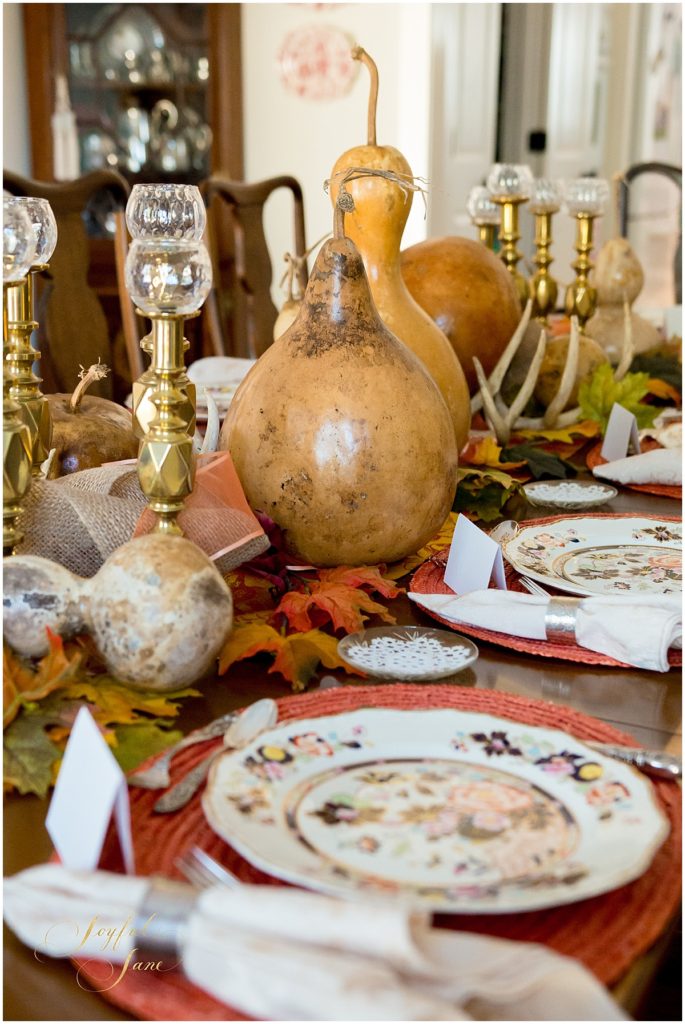 What does a beautifully decorated Thanksgiving table and a love story have in common? You will find out as you read this true story about love, respect and giving thanks.  Also, at the end of this post I have a surprise GIFT for you, so be sure to see that and get the gift.
Last year at this time I photographed a family who was going through an extremely difficult time.  Leon (the dad and husband in this family) was fighting a brutal battle with stage 4 cancer.  Little did we know, that this would be his last portraits with his family or that this would be the last time he would sit as head of the family table at Thanksgiving.  Leon was a man of great faith and went on to leave this earth later that year.  He left an adoring wife, children, grandchildren, other family and many friends.  Below you will see a tour of the amazing Thanksgiving table that his amazing wife Nancy set for their last Thanksgiving together and read a snippet of their love story and the key component that made their love strong.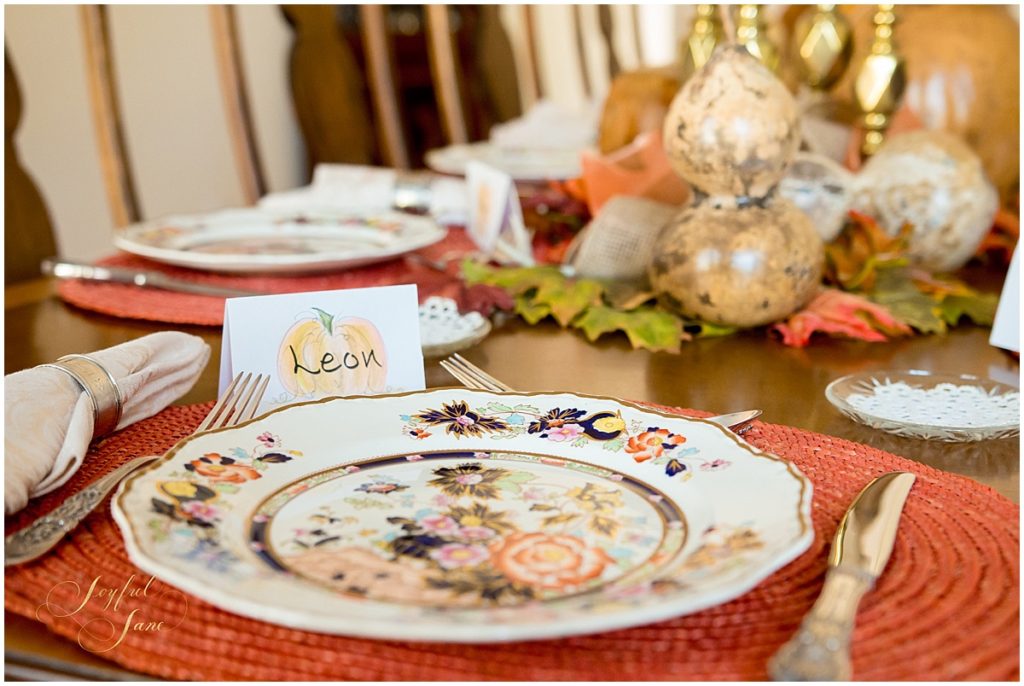 Every once in a while you meet someone who makes a profound impact on you.  My friend Nancy (Leon's wife) is one of those people.  To quote Anne of Green Gables, I feel like Nancy and I are "kindred spirits".  We have very similar tastes in decor and hobbies and we both dearly love and admire our husbands.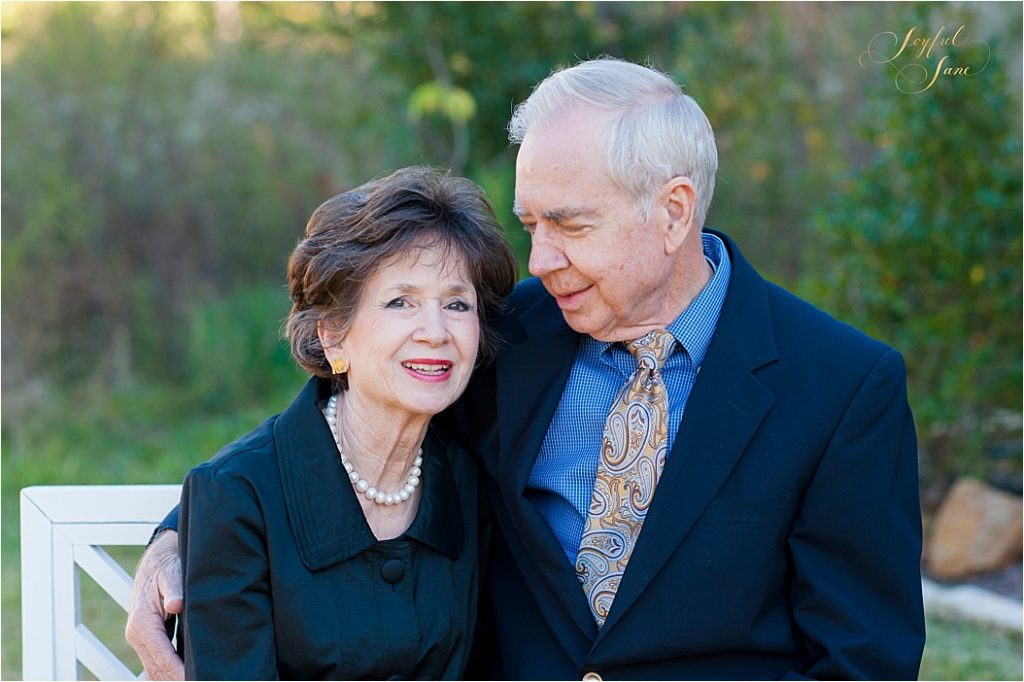 Nancy and Leon
In the midst of caring for Leon during his many cancer treatments and doctor visits, Nancy told me a touching story one morning that I will never forget.  When I inquired how he and she were doing, she said that they were doing well and had really not changed much of their routine.  She went on to say that every morning they would go out onto the back porch and have coffee together like normal.  Leon and she had talked and he had expressed to her that he really had no regrets as to how they had lived their life as husband and wife.  She said he always spoke kindly to her and she always treated him with respect.  They never spoke ill of one another and their marriage thrived as a result.
This struck me profoundly that they didn't have to all of a sudden make sure they spent a lot of time together to make the most of their time they might have left.  They didn't have to begin treating one another with kindness to make sure they ended well because they had always done that.  I'm sure they weren't perfect, like we all are when we make mistakes, but they did accomplish having a loving and joyful marriage.  That is a great accomplishment in my book.
In this day and age, the concepts of love and respect are so foreign. How many times have you heard a husband or wife disparage their spouse publicly?  It is rampant and can be encountered at every turn. So many times we can let selfishness and self-love get in the way of sacrificial love.  The kind of sacrificial love that Christ showed us on the cross by laying down his life for us.  In a similar way, Leon also lay down his life for his wife.  He held her up on a pedestal and treated her with true love.  The love of Christ was evident in their marriage.
Leon and Nancy have been a great encouragement to me as I strive to replicate that same dedication and selfless love in my own marriage.  I don't want to come to the end of life with a multitude of regrets.  I don't want to put my husband down, but instead I want to build him up both in private and publicly.  I don't want to wait until "someday" to spend time with one another talking and sipping coffee together.
As you approach this Thanksgiving, let this be a reminder to be thankful and if you are married, be the type of person you would want to be married to.  Out-serve and out-love your spouse.  Don't wait.  Start LIVING life in love and harmony TODAY!  Seize the day and hug your family a little tighter and love a little better because we are never promised tomorrow.
Walk in wisdom toward them that are without, redeeming the time.  Let your speech be always with grace, seasoned with salt, that ye may know how ye ought to answer every man.  Colossians 4:5-6
Beautiful things make me happy, so if you are like I am, you also love seeing beautiful things that people have made.  Nancy did not know that I would be taking pictures of her table that day, but I happened to see it when I was over taking portraits of her family and asked her if I could take some pictures for the blog. Nancy is so talented and she out-did herself with this festive table!  Don't miss the FREE GIFT at the bottom of this post from Nancy and me!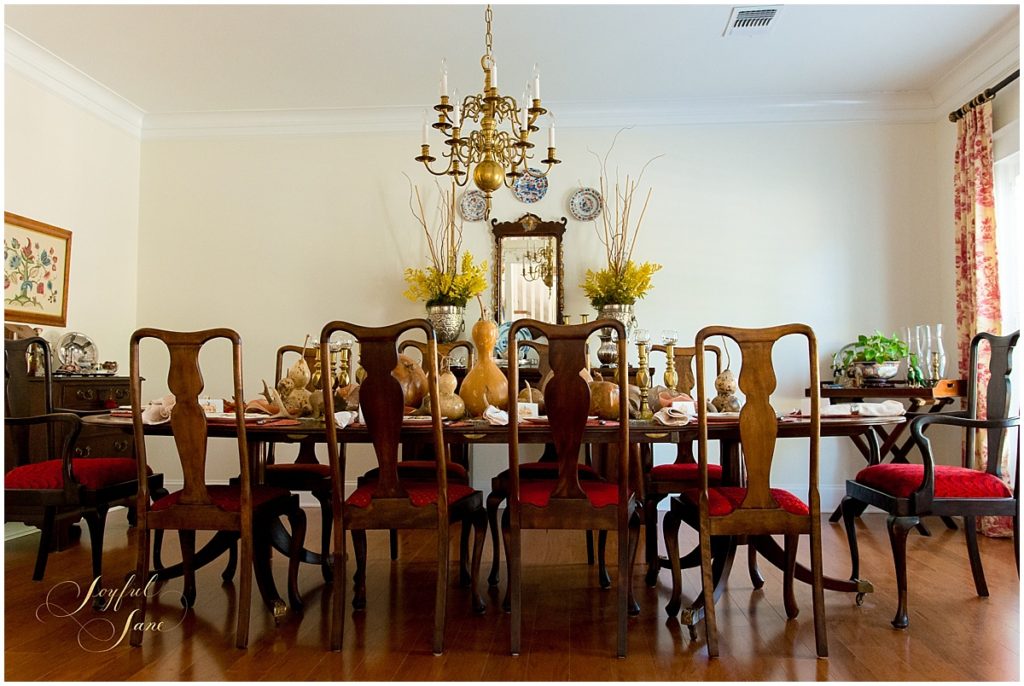 Nancy hand-painted the little pumpkin place cards.  She used large gourds that she found at an estate sale.  The deer antlers were found on her farm land.

If you need any ideas for what to serve as side dishes for Thanksgiving dinner, may I suggest a few of my favorites that I make like my new Fluffy Sprouted Rosemary Rolls with Garlic Butter. or you can try my Easy Fluffy Sprouted Wheat Rolls or Parmesan Green Beans.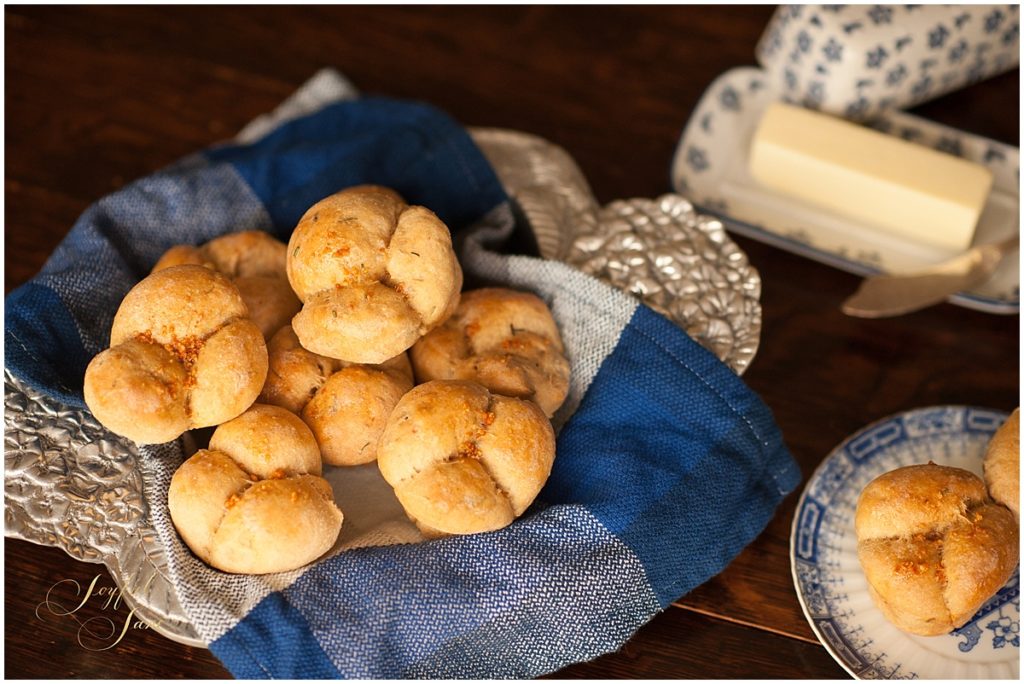 Now on to the GIFT for you!  This is something that Nancy and I collaborated to bring to you–She painted the lovely watercolor paintings of the gourds from her Thanksgiving table and the Urn with flowers from her dining room buffet and I wrote the scripture "Give thanks to the LORD for his lovingkindness" in my calligraphy.  This would be a perfect addition to print out and frame to display on your Thanksgiving table or buffet or to hang on your front door or walls.
There is a link under the print below to download today until the end of tomorrow on Thanksgiving day, so be sure and grab your free copy by tomorrow November 23rd, 2017!  I plan to add this print to my shop after Thanksgiving if you miss the free offer, so be sure and check there and you can buy one.  I also hope to have note cards made of the print and those would be perfect to send to the person who is hosting Thanksgiving or as a thank you card any time!
This scripture print is my THANK YOU gift to YOU, my readers!  If my blog has touched you in some way, I would be so grateful if you would share how this blog or I have helped you in the comments below this post.  That would make my heart so happy to hear!  Also, would you please share my blog with your friends and let them know about this gift so that they can download one for themselves?  (Please only one download per household).  If you don't already follow my blog, please consider adding your email to the box below or the box on the side to sing up to receive my posts directly to your inbox so you don't miss a thing!
Let this scripture and this love story above remind us to always be thankful and loving.
I want to end this post with this picture my friend took of my husband, Kyle and me the other day.  I'm so thankful for him and the sacrificial love he shows me every day!  Don't wait until "someday" to let those around you know that you care–Let someone know you are thankful for them today!