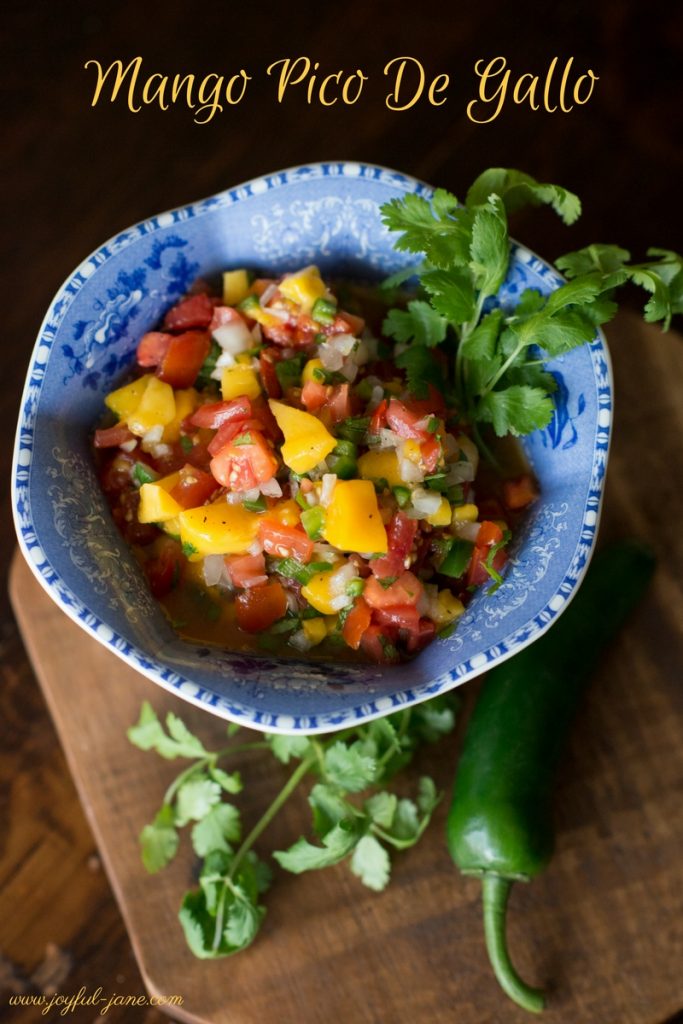 I'm a huge fan of pico de gallo. I like to pile it on my taco salad, my breakfast tacos, eggs and more. This pico de gallo has a little different twist that I really like…a tropical twist with just a hint of sweetness from the added mango.
The first time I had mango pico de gallo was at my sister's house. Her husband had whipped up a batch and I honestly liked it so much that I just ate it with a spoon, however most people would probably like it with chips or as a refreshing topping on fish or fish tacos. It's easy to make pico de gallo, but if you are not up for chopping, then feel free to just buy the pre-made pico de gallo from the grocery store or your favorite Mexican restaurant and simply add the mango to the mixture (you may need to taste and add salt and pepper as needed).
Mango Pico De Gallo
(THM FP or E depending on serving size*)
1 1/2-2 cups of diced tomatoes (drain juices after you chop them)
1 cup of diced ripe mango (I always use the frozen mango chunks that I buy in the bag from Sam's to make it easier)
1/2 cup of minced onion
1 medium sized jalapeño, seeded and minced (about 3 Tablespoons)
1/4 cup minced fresh cilantro
1 teaspoon Salt and 1/2 teaspoon pepper (or to taste)
Thaw the mango chunks (I usually just stick them in a container in the fridge over night and they are perfect the next day) and chop them.  Add remaining ingredients and stir.  Enjoy!
*On Trim Healthy Mama this recipe would be considered an FP if you keep the serving size to 1/8th of a cup.  If you have more than that it becomes an E.
If you want to serve the pico de gallo with chips, you can use baked blue corn chips or make your own pita chips from Joseph's Pitas.
Pin It!