I've been trying to incorporate more salmon into our meals because of the health benefits of the Wild Alaskan Salmon.  One day I came up with this unique flavor combo and my family loved it!  The fish itself takes only about 5-10 minutes of prep time.  The Mango Pico De Gallo that I serve on top of the salmon is simple and fresh and that recipe can be found on my post HERE.  One other great benefit to this dish is that it is a Fuel Pull on THM–which means it is great for weight loss!
This dish can be a simple family supper, or you can dress it up as shown here by serving it on china for a "fancy" dinner.  I served it with steamed green beans.  I hesitated to call the recipe spicy because it is not really that spicy in heat, but it does have a nice "spice" in the way of seasonings, so all of my kids were able to eat it and enjoy it.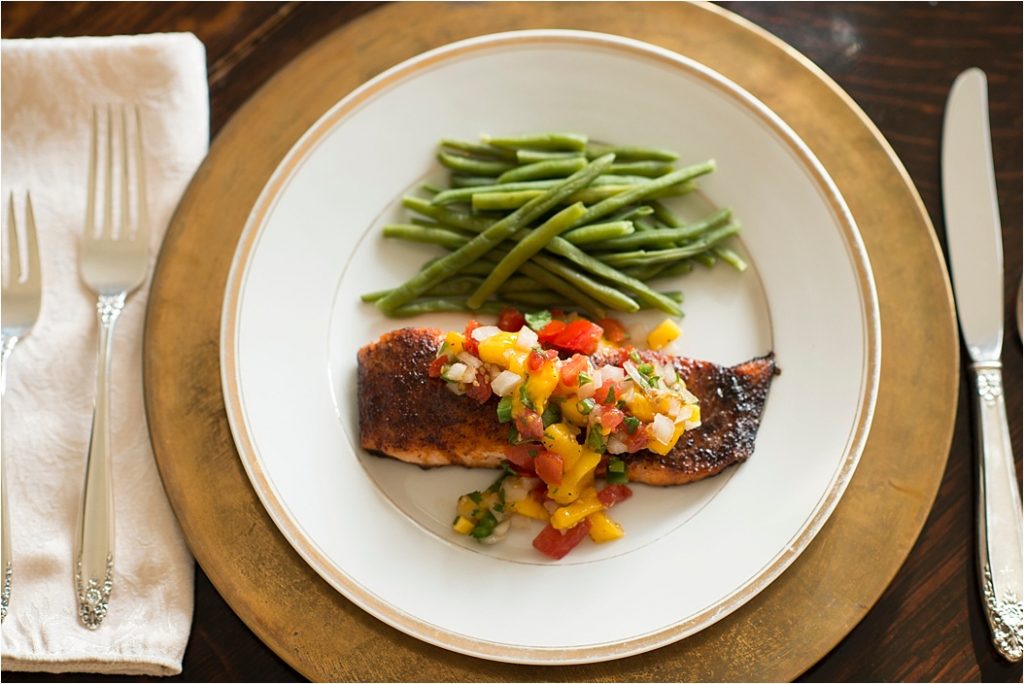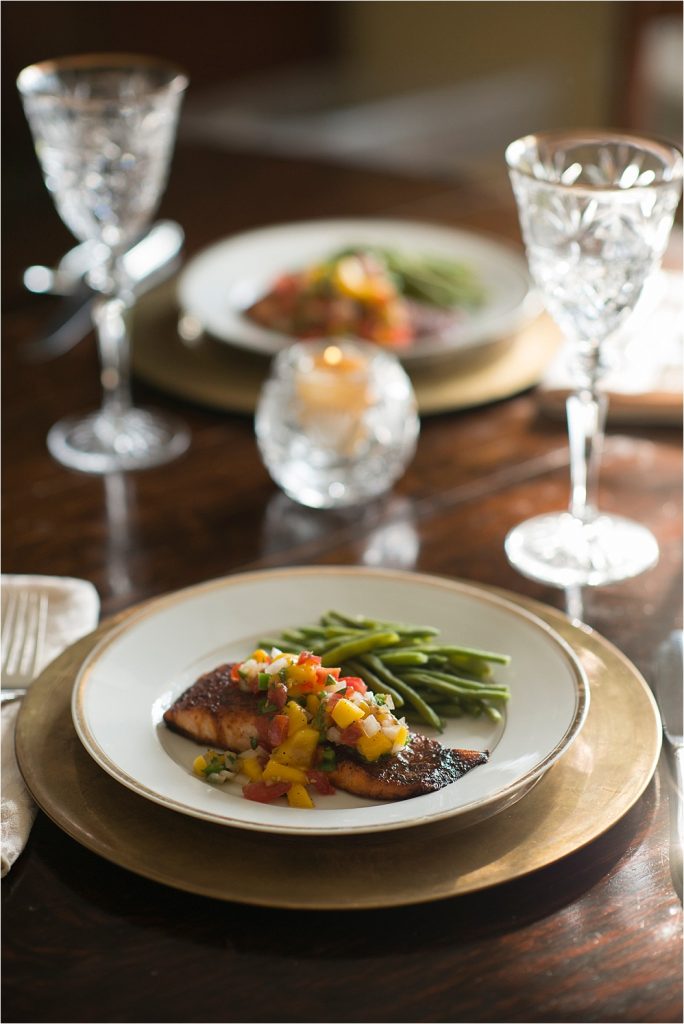 Sweet and Spicy Mexican Salmon
with
Mango Pico De Gallo
(THM FP)
4 salmon fillets (use the wild Alaskan salmon because it has less fat and is healthier than the farm raised salmon)
Coconut oil cooking spray
Salt
Pepper
Chili powder
1 Tablespoon of Erythritol (substitute 1 1/2 Tablespoons of honey if you are not needing it to be THM or if you are at goal weight.)
1/8th teaspoon Blackstrap Molasses
4 teaspoons of Tamari Soy Sauce (or regular soy sauce would work, too–If you are using honey instead of the erythritol drizzle the soy sauce on first)
Instructions-
Spray a cookie sheet and the top of each fish filet with coconut oil spray and place the filets on the oiled cookie sheet.
Sprinkle salt, pepper and chili powder so that it has a nice coating on both sides of the filets (see picture below).
Stir together 1 Tablespoon of Erythritol (or honey) and 1/8th teaspoon of blackstrap molasses, then spread this mixture on top of the filets.
Drizzle 1 teaspoon of Tamari soy sauce on  top of each filet on the cookie sheet.
Bake at 425 for 15 minutes then turn the oven to broil and broil a few more minutes (watching carefully) until nicely browned.
Top with Mango Pico De Gallo (recipe found HERE) and enjoy!
These pictures show the fish sprinkled with the seasonings and drizzled with the Tamari soy sauce.Serve the salmon with steamed green beans and a nice flavored sparkling water!
Pin It!
  Thank you for clicking on the affiliate links that may be in this post–It doesn't cost you anything extra and it really helps me to be able to keep this blog up and running to help others!