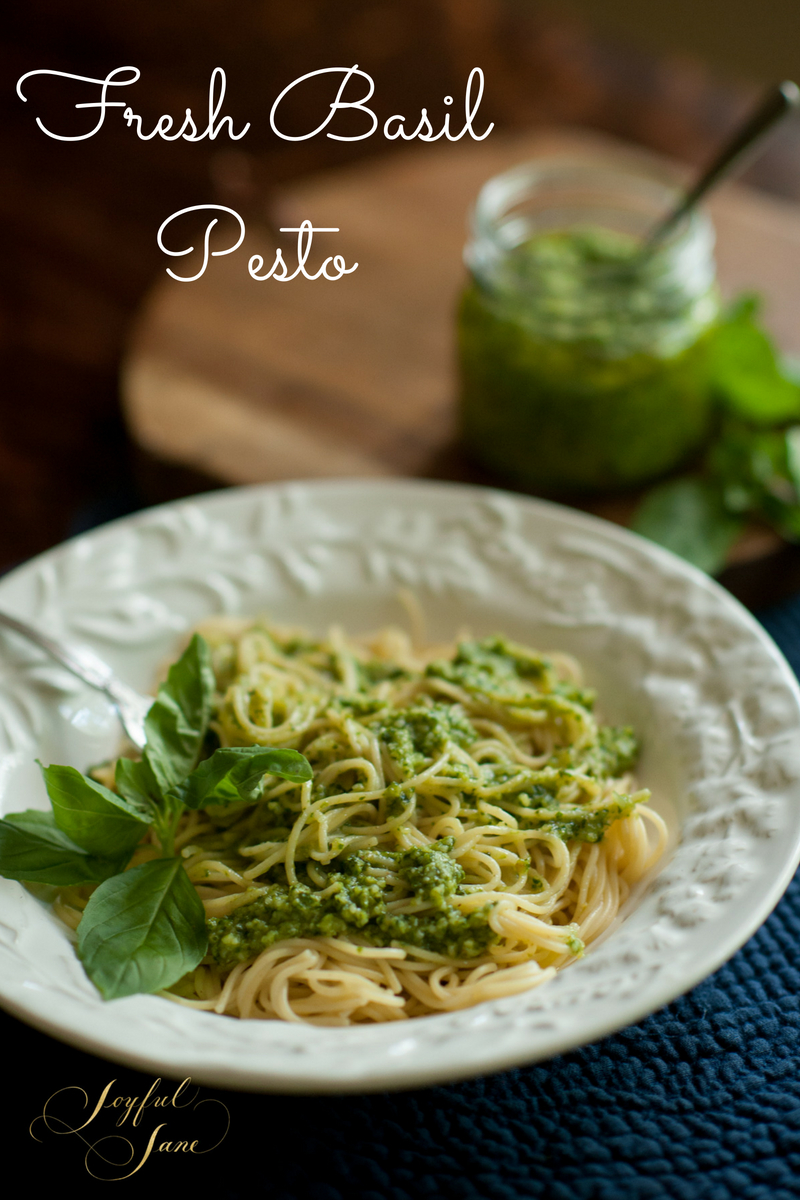 Pesto is one of my favorite sauces and this one that I make is my favorite pesto I've ever had (and I've had a lot)!  The flavors of the fresh basil and Parmesan cheese blended with a hint of garlic and seasonings is just so yummy!  What I also like about pesto is that it is so versatile–you can use it on almost anything from pasta to sandwiches to steak or just spread on a piece of crusty bread (or even eaten with a spoon as I have been known to do…I like it that much!).  It also keeps well for a long time in the refrigerator, but at our house, everyone loves it so much that it doesn't last long.  Thankfully it is a cinch to whip up quickly and only requires a handful of ingredients.  I like to plant basil in a pot in my yard for making pesto, but you can buy fresh basil at the grocery store in the refrigerated section or you can buy a plant in the garden section and pluck the leaves to use.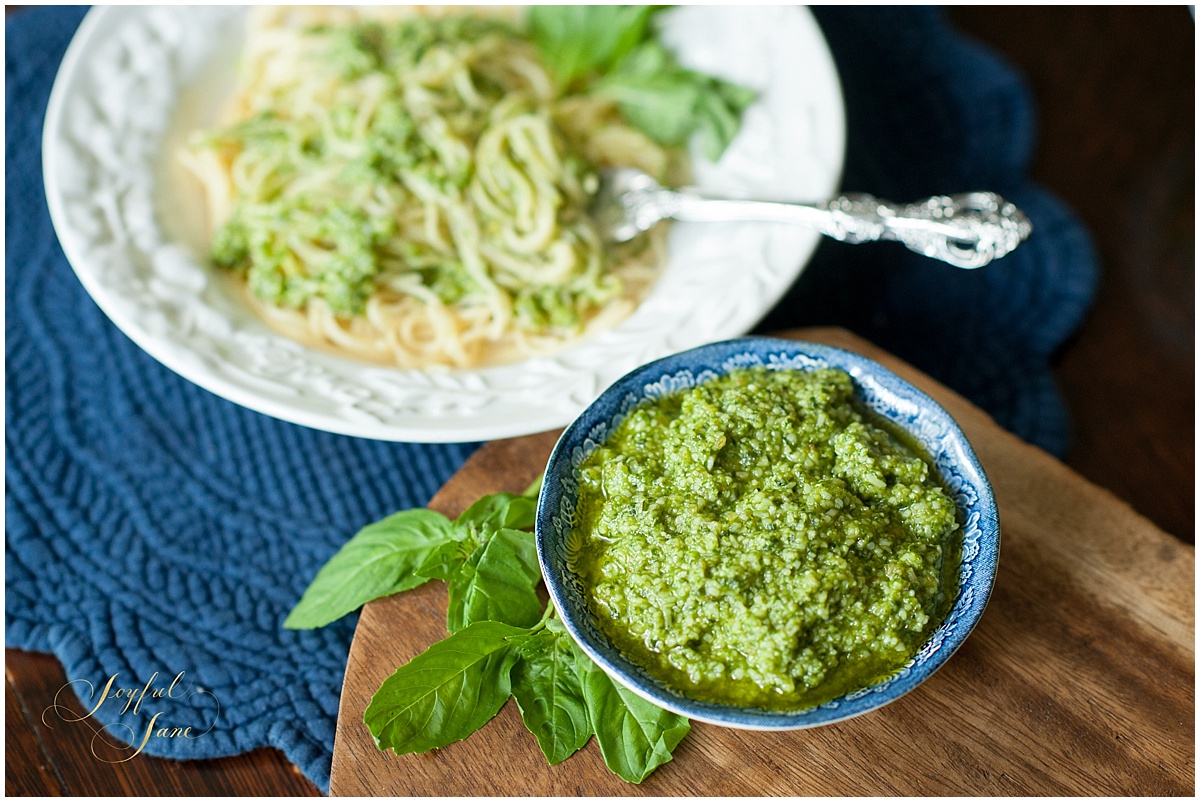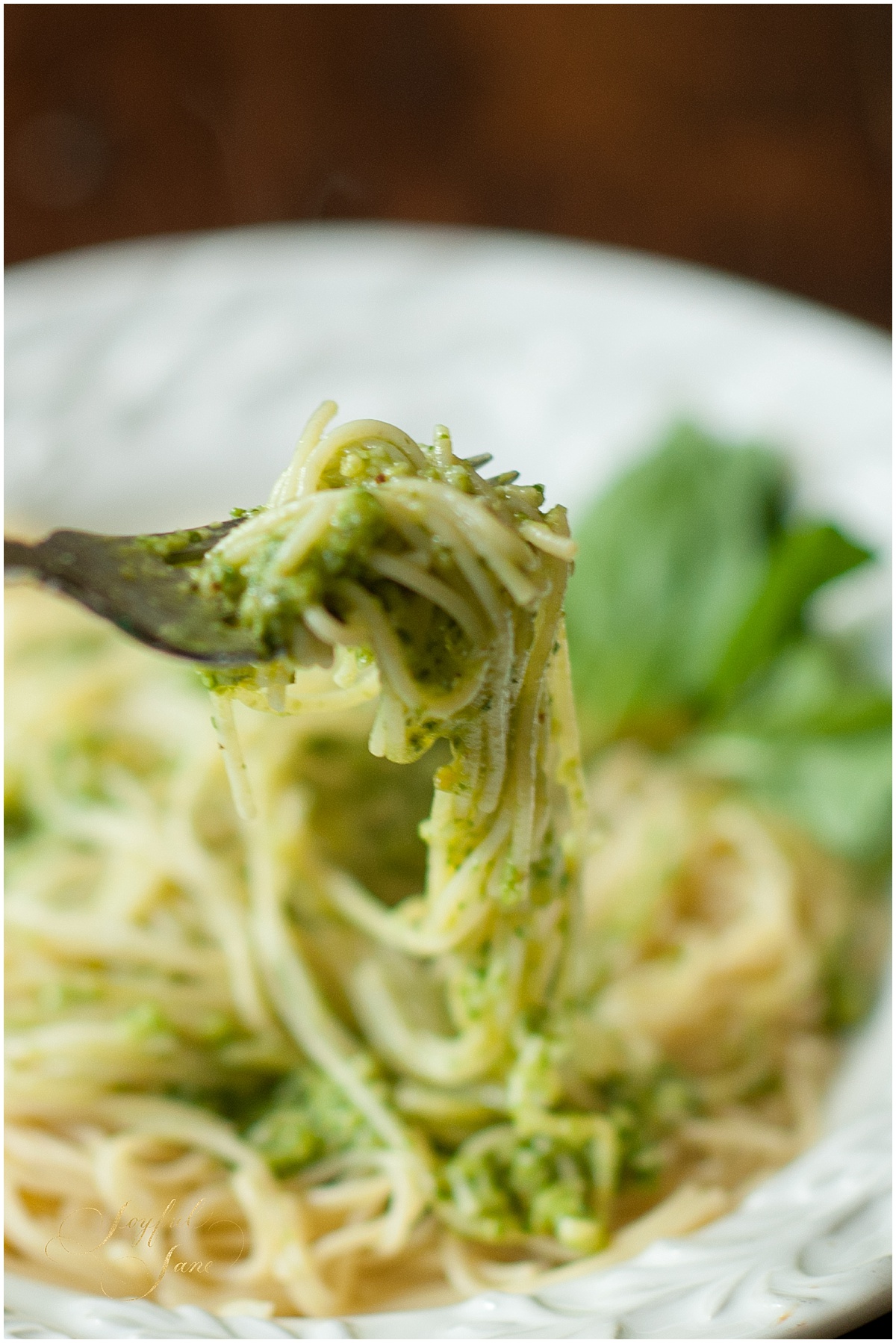 PIN IT!
Fresh Basil Pesto
(THM S)
½ c. pecans or walnuts
1 ½ cups freshly shredded Parmesan cheese
3-4 small garlic cloves
1/8 t. salt
1/8 t. freshly ground black pepper
¾ cup olive oil
2 cups, loosely packed fresh basil leaves
Add first 5 ingredients to a food processor. Pulse nuts, Parmesan, garlic, salt and pepper in a food processor 10-15 times or until a chunky paste forms (should resemble coarse crumbs).  Add basil.  With processor running, gradually pour olive oil through food chute and process until blended to your desired amount (I like mine to have a little texture, so I don't puree mine).  Store in a jar or a covered plastic container in the refrigerator. Yield: 2 cups.
Note-When I serve this pesto on pasta, I like to use Dreamfield's because they are supposed to be a lower glycemic pasta that shouldn't spike your blood sugar like regular pasta.  My favorite pasta to use for pesto is Angel Hair pasta, but any pasta will do.