Last night I had a terrible dream…I know in the Bible that the Lord spoke to people through dreams, so maybe He still does that today as well.  Whether or not my dream was "the Lord talking to me", it really shook me up and caused me to think about the coming year and what I hope will be different about me.  You see, I can't change anyone else and I can't always change my circumstances, but I can change myself (with the help of the Holy Spirit in me).  I narrowed it down to the fact that I'd like to keep life a little more basic in 2017.  "Back to the basics", as some say.  In reflecting more, I started pondering what those basics for me are.
Faith…I want to try to pray for and with my children and husband more this year.
Family…I want to put them first and really focus on them and not let devices or other distractions take away from this precious and fleeting time with them. I want to just focus over all on the things that REALLY matter in this life and not what I think matters.
Food…I want to get a little more creative in our meals this year and incorporate more vegetables.  I've kind of been in a bit of a food slump and making the same things over and over. I hope that in 2017, I can amp it up a bit with more spices, flavors and unique dishes.
Fun…I want to stop the busyness more and just have fun with my kids.  It is so easy for me to get caught up in the "To Do" list and forget to have fun.
Fitness…I would really love to work on moving and toning my body more (and I'd really love to get back into my pre-pregnancy clothes).  I've actually already started this part and I am on week 9 of a 14 week post-natal exercise program.
Fellowship…Again, it is so easy to get caught up in our own little bubble that we forget to reach out to others in fellowship.  My plan is to have at least one different family over for a meal every month.  By the end of the year, we will have had fellowship with at least 12 families!
Focus…I want to hone in on the truly important and let a lot go…
Those are my basic goals for this coming year. I know that I will not do all of these things perfectly, but perhaps being vulnerable and putting this all out there will help me to have some accountability and structure in 2017.
How about you? What has the Lord been speaking to your heart for 2017? I'd love for you to share in the comments!
Maybe your year was smooth sailing in 2016, but in our family we experienced some major rain and winds to our house. It was a very stressful year, but you know what?  We survived, and in the midst of the uncertainty and turmoil we also experienced God's blessings.  2017 might not be an easier year, but I can cling to the scripture that tells us that our steps are ordered by the Lord, so whatever comes my way, I'll be able to withstand the storm with the the Lord God, my rock holding me. Ultimately, I just need to yield to HIS prompting and way. "The steps of a good man are ordered by the Lord: and He delighteth in his way." Psalm 37:23
"Everyone then who hears these words of mine and does them will be like a wise man who built his house on the rock. And the rain fell, and the floods came, and the winds blew and beat on that house, but it did not fall, because it had been founded on the rock.  And everyone who hears these words of mine and does not do them will be like a foolish man who built his house on the sand. And the rain fell, and the floods came, and the winds blew and beat against that house, and it fell, and great was the fall of it."  Matthew 7:24-27
This year lets focus on less Frenzy, less Frustration and less Foolishness. Lets be a "Wise Man" who builds his house upon the ROCK!

Fast Frijoles Broiled Burritos
I hesitate to even call this a "recipe" and I'm kind of embarrassed to share it as such, however this is a post about the real life basics, so here you go!   You can't get much more basic than bean burritos.  Just keeping it real… This is something that we literally make once almost every week for a super fast lunch.  It is so simple that my little kids can make them by themselves and you will often hear them fighting over who can sprinkle the cheese on and such.  They only require three ingredients for the basic version, however sometimes I do make them more interesting by adding any leftover meat bits (chicken, beef or turkey…whatever I find in the fridge).  You can also add salsa, guacamole, or sour cream or Greek yogurt as toppings if you wish.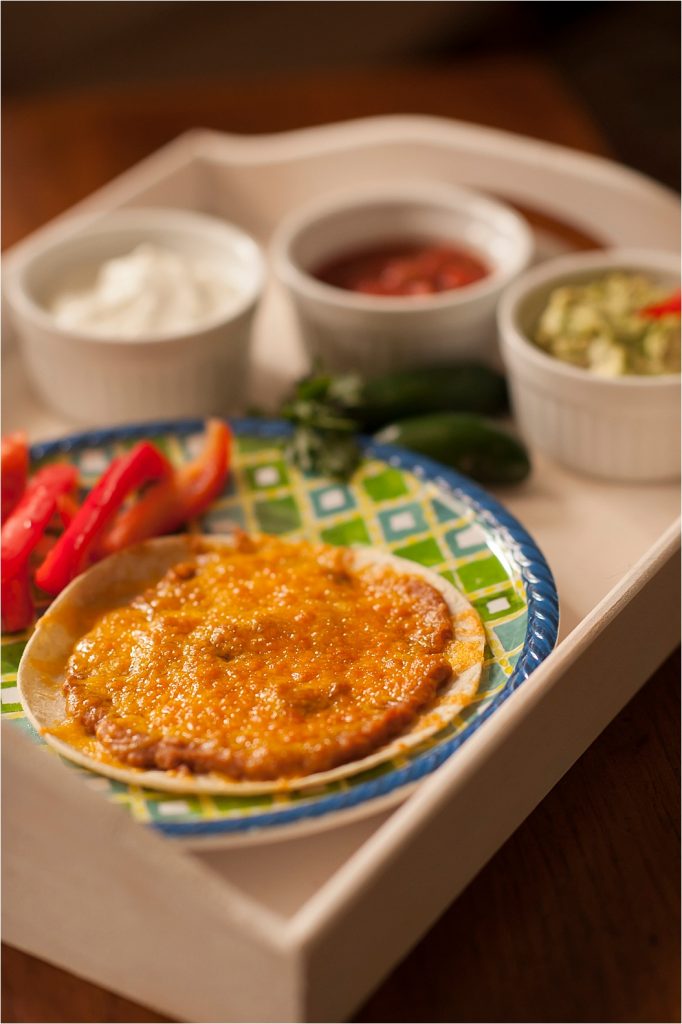 7 corn or whole wheat tortillas*
1 can of Amy's Organic Refried Beans with Green Chiles (this brand with the green chiles is really tasty and we like them much better than plain refried beans)
2-3 cups of shredded cheddar cheese
Lay tortillas out onto a large cookie sheet.  Spread the refried beans on the tortillas.  Sprinkle the desired amount of cheddar cheese on top.  Broil until cheese is melted and bubbly.  Roll them up and enjoy!  Serve with a side of baby carrots or bell pepper strips.
Yield: 7 servings, however I usually double this because my kids like to eat two a piece.
Notes: I buy the large 100 count corn tortillas pack at Sam's for under $5 and this is what I use most of the time which makes this recipe is very economical.   However, occasionally I will buy whole wheat tortillas to use.  If I want to make a THM version, I would use low carb whole wheat tortillas or sprouted corn tortillas.