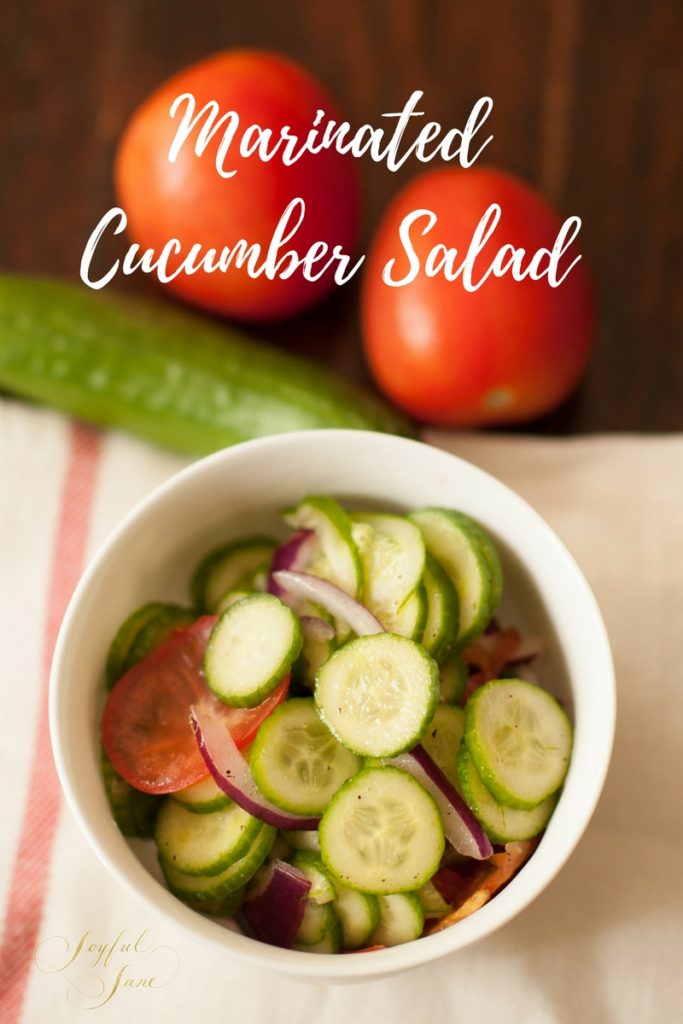 With a handful of ingredients, you can really pack refreshing flavor into this marinated cucumber salad!  It is so simple to make and yet it is tangy with a little spice and a slightly sweet flavor.  I first had this when my friend Natalie made it for my family, so I have her to thank for sharing the recipe.  She has a real gift when it comes to making tasty and pretty salads.  We all really enjoyed it and the kids were begging for more, so that said a lot.  Another great aspect about this salad is that it can be made ahead of time. I recently made it for a dinner party I was hosting and it was nice to have something other than a traditional green salad to serve with the meal.  Normally, my family is not thrilled when I used raw onions in my cooking, however in this salad they are marinated, so they gobble them up.
I like to use the small English cucumbers that I buy in a bag from Sam's, however larger cucumbers would work as well. I like the small cucumbers because they are tender and they don't have the waxy coating, therefore we leave the peel on them. I recommend that you slice the cucumbers, red onion and tomatoes super thin so that they can really get that marinated flavor imparted to them.  We use a food processor to do all of the slicing, so the prep only takes about 5 minutes get the veggies ready and another 5 minutes to make the simple salad dressing.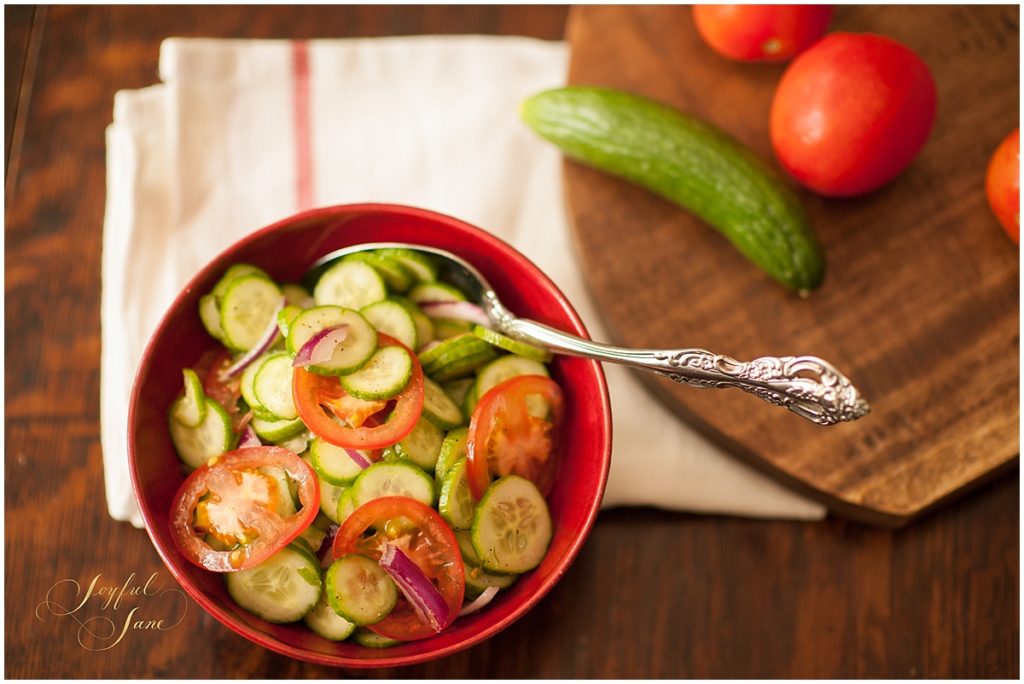 PIN IT!

Marinated Cucumber Salad
(THM FP)
Veggies
Cucumbers (about 2- 3 pounds),very thinly sliced  (I like to use the mini cucumbers from Sam's)
Roma Tomatoes (about 3 pounds), very thinly sliced
1/2 red onion, very thinly sliced
Dressing
1/3 cup red wine vinegar
1/3 cup water
3 Tablespoons Erythritol (if you like a little sweeter dressing you can add a pinch or two of pure stevia extract or you can use 3 Tablespoons of Super Sweet Blend in place of the Erythritol and Stevia)
1 tsp salt
1 tsp pepper
Put all sliced vegetables in a bowl (I save time on slicing by using my food processor slice everything with the slicing attachment, but you can certainly do it all by hand).  Combine Dressing ingredients and pour over vegetables.  Stir well, cover and refrigerate over night or at least 4-6 hours.  Serve and enjoy!
Yield- Approximately 4 good sized servings or 6 smaller servings