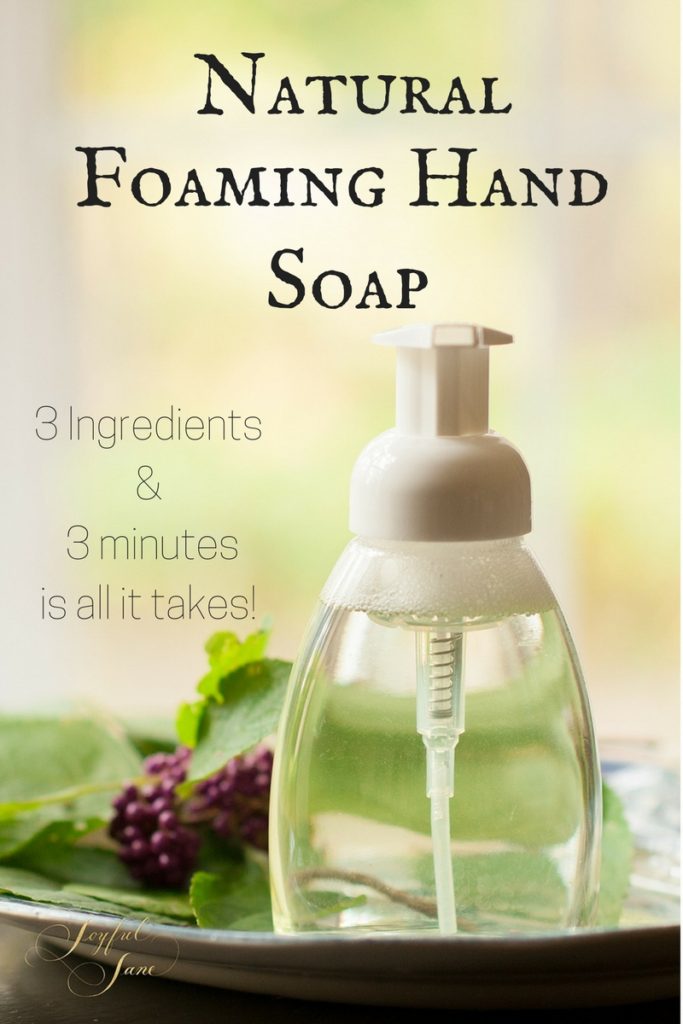 For years I bought pre-made foaming hand wash until my friend Stacey suggested I try to make my own to save money.  I am so grateful for her suggestion because not only has it saved me tons of money, but it is so simple and only takes about 3 minutes to make.  The best part about it is that it is non-toxic, so I can feel good about using it for my family.
If I am exposed to perfumes or heavily scented products I get a headache.  It has been frustrating trying to find a reasonably priced natural soap that doesn't contain chemical scents or other toxic ingredients.  I am so happy that the ingredients used in this soap recipe are mild and natural so that they don't bother me at all.  Best of all, it costs roughly 50 cents to make a bottle of the soap, so I save so much money!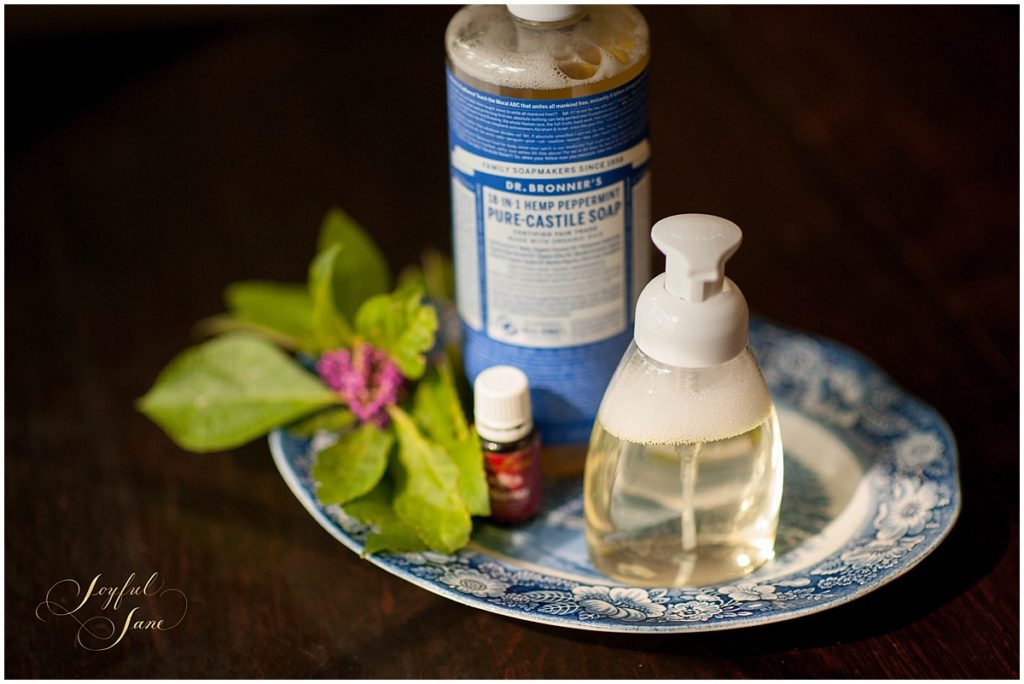 Amazon sells this inexpensive 3 pack of foaming soap dispensers for about $8.00! Or you can get these lovely glass bottles. The bottles are re-usable so, you have a one time cost of buying them at first, but after that you can just re-fill them as many times as you need to in the future.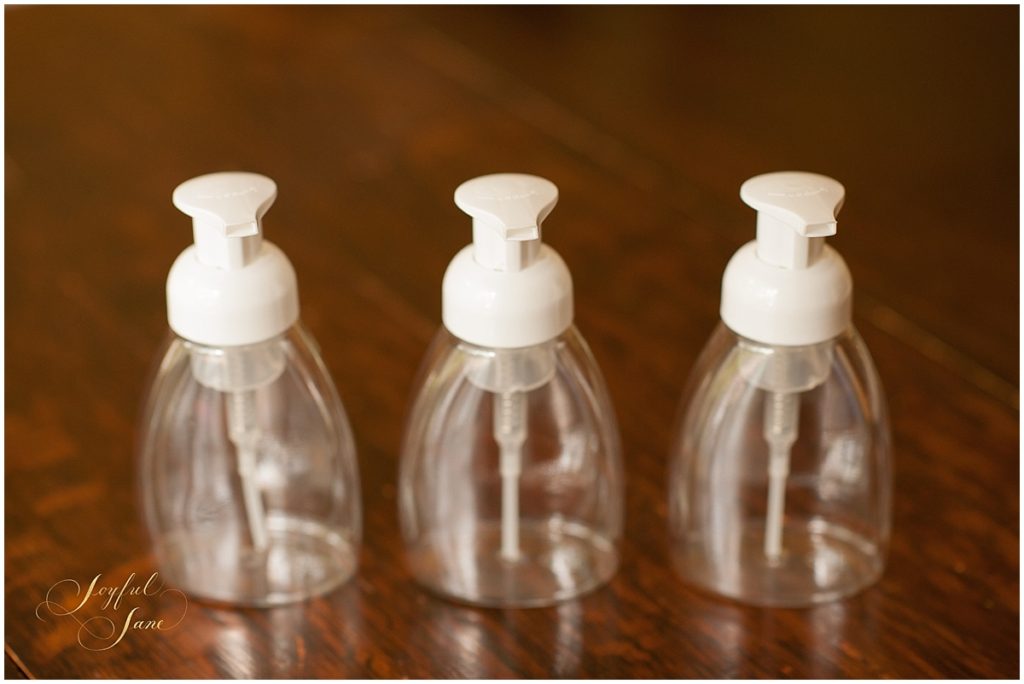 Dr. Bronner's Pure Castille Soap is the base of this soap recipe.  The recipe only calls for 2 Tablespoons per dispenser of soap because it is super concentrated, so that makes this recipe VERY cost effective!  One 32 oz. bottle of Dr. Bronner's Castille soap makes 32 bottles of foaming hand soap, so if you pay around $15.00 per bottle of Castille soap and that averages out to roughly 50 cents per bottle. Dr. Bronner's soaps come in a variety of choices such as Peppermint, Citrus, Lavender, Almond, Unscented and an Unscented Baby.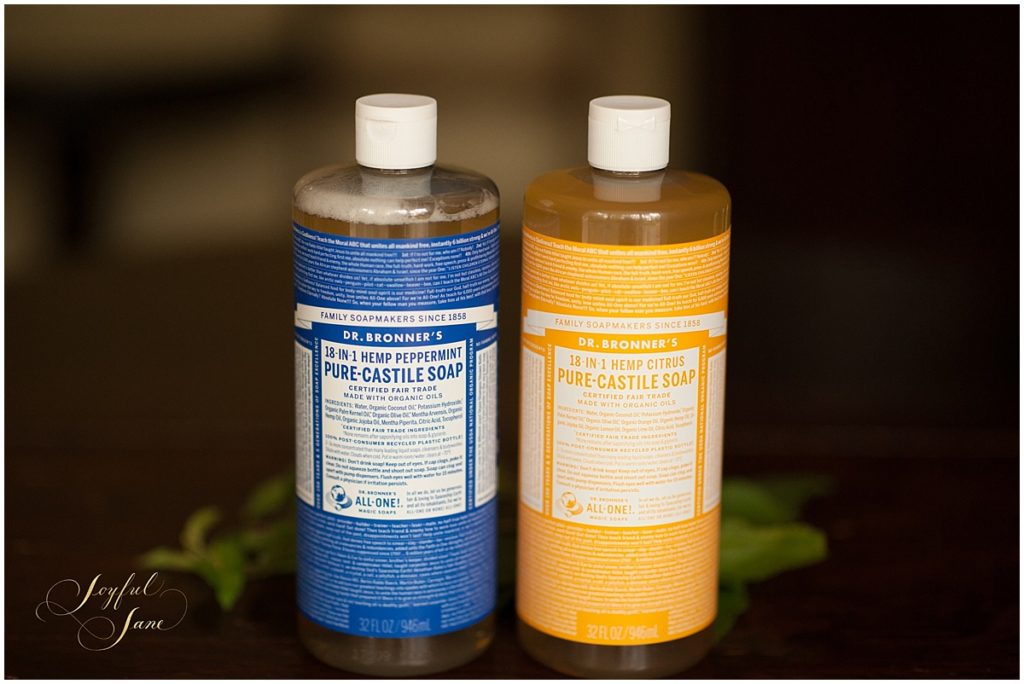 I like to add 2-4 drops of pure essential oils to my hand soap for their extra germ-fighting properties and to add a lovely scent (that won't give me headaches like the chemical scents found in the majority of cleaners and soaps found in store today).  I typically add Thieves (a blend of several essential oils that can be purchased from Young Living.  If you are interested in ordering some, feel free to contact me and I will help you order or refer you to someone else that can help you.) for the germ-fighting.  You can leave it at that or if you want to add more I really like to add extra peppermint to mine for a refreshing minty scent.  Some other great essential oils you could add would be Melaleuca Oil (also known as Tea Tree Oil), Lavender, Orange Oil, Lemon Oil, etc…The possibilities are endless and because these are non toxic you don't have to worry about getting headaches from the scents.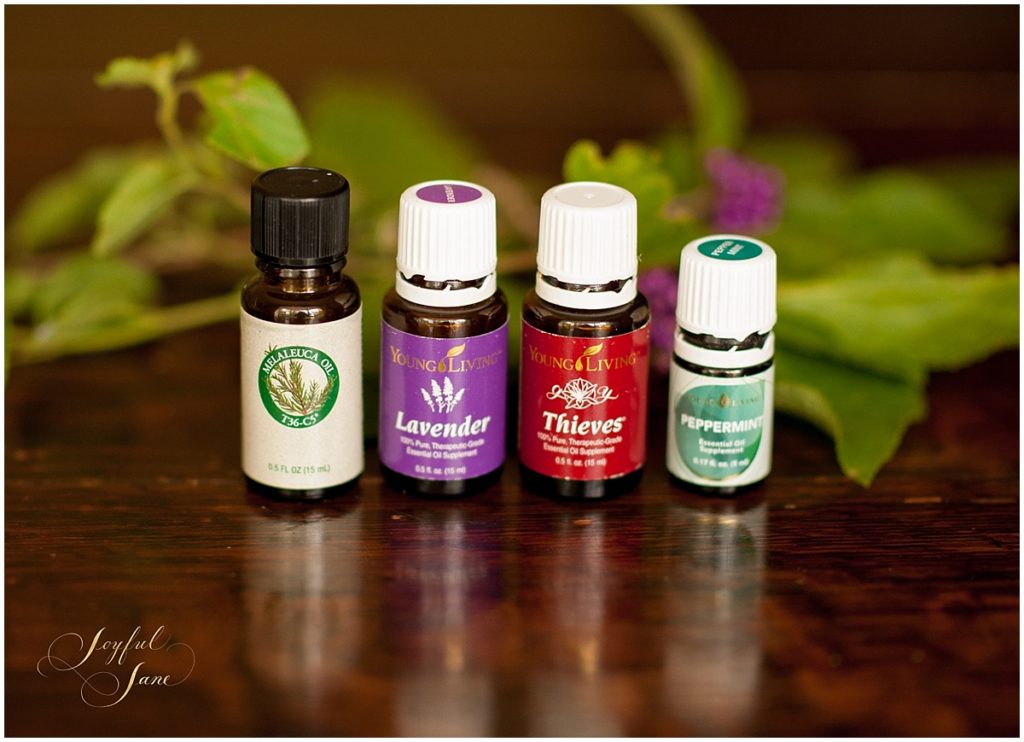 I like to use this handy dandy small measuring cup that has a pour spout on it when I measure out my Castille soap.  You can get the measuring cup HERE.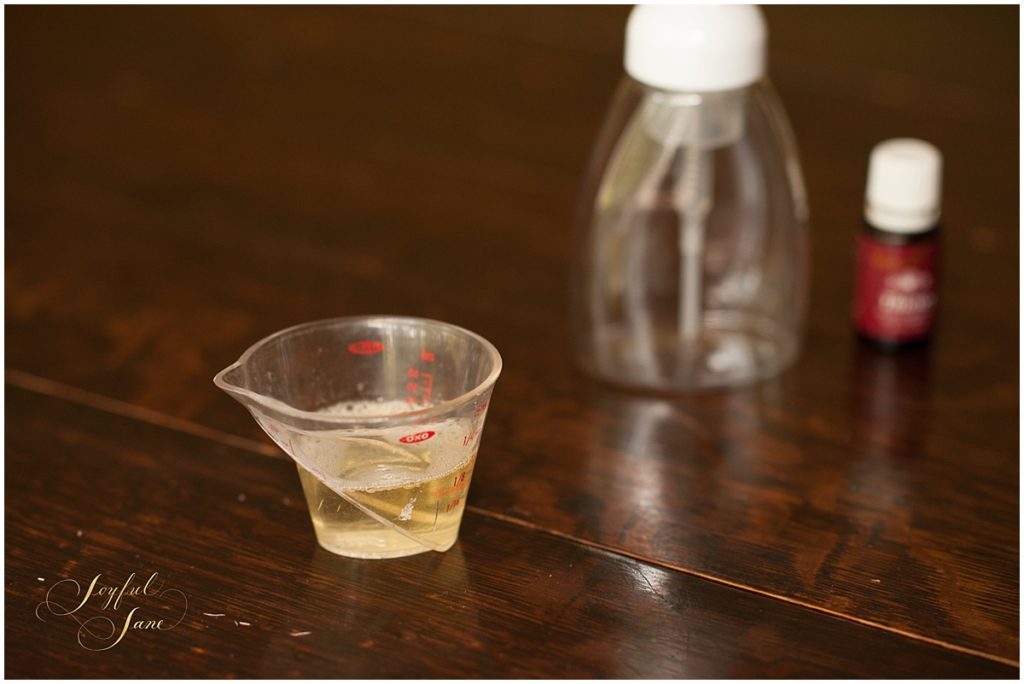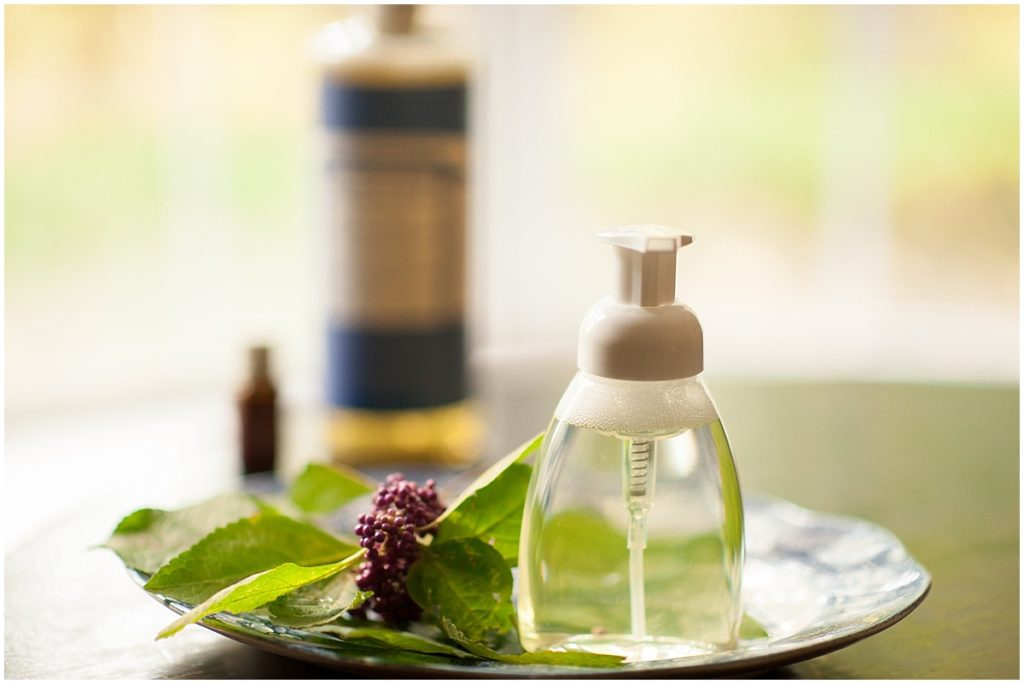 PIN IT!Natural Foaming Hand Soap
2 Tablespoons Dr. Bronner's Castille Soap (I like to use Peppermint, but feel free to use another like Lavender, Citrus, Almond or Unscented)
2-4 drops of your favorite pure essential oil (I recommend Thieves to fight germs and I often like to add a couple of drops of peppermint essential oil-both can be purchase from the Young Living Co.*)
Water to fill the bottle
Measure 2 Tablespoons of Castille soap into the soap dispenser (I like to use this measuring cup with a pour spout).  Add drops of essential oil and fill bottle the rest of the way with water.  Put the lid on and you're done!  Easy peasy! =)
Yield: 1 bottle of foaming hand soap
*If you would like more information on how to order Thieves or Peppermint essential oils from the Young Living Co. feel free to contact me.